December 29, 2013
WIN All This Chocolate and More To Beat January Blues
Well, Christmas is over, New Year is about to come. Al the tins of chocolates have been scoffed and the new year still has yet to make an appearance. The Christmas lights go off soon, leaving long nights without much cheer.
Here at the Mostly About Chocolate blog we're all about bringing happiness and excitement to people's lives and that's why we're giving away ALL THIS CHOCOLATE!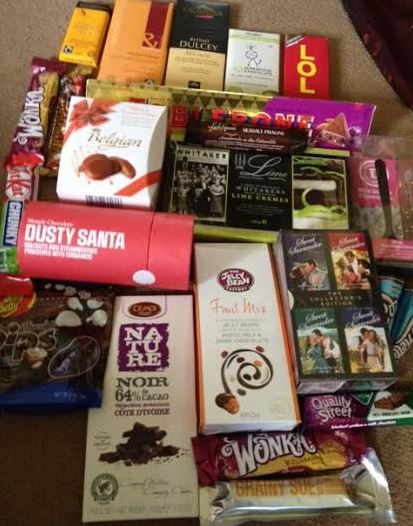 Yep, that's right, I'm paying the postage and sending this anywhere in the UK the winner happens to be (sorry international folk, the postage costs me more than the chocolate is worth!) and I will draw the winner the day after Twelfth Night!
So between now and January 5 make sure to enter the competition with a comment (as per instructions below) and once done you can tweet and follow the blog on Facebook. Raffle Copter handles all the details so I hope you'll indulge in entering this competition for all the pictured chocolate and more!
HOW TO ENTER:
Use RaffleCopter!
Leave a comment of MORE THAN 10 WORDS about the funniest memory you have from 2013. I will read them all and the comment will influence the winner.
Tweet that you entered! You can tweet only once a day but that gives you a few opportunities!
Follow @MostlyAboutChoc on Twitter!
Like Mostly About Chocolate on Facebook – RaffleCopter can tell and give you the entry easily.
a Rafflecopter giveaway

The rules:
1.The competition will finish Sunday 5th January 2013 when RaffleCopter closes it.
2.The selection of winner will be selected by Rafflecopter and verified by hand to ensure entry complies.
3.Only available to UK mainland addresses.
4.No cash alternative available.
5.I reserve the right to exclude entries that I feel are inappropriate (for example, change the tweet or do not leave the minimum 10 words) or are not in the spirit of the competition.
6.Your details won't be passed onto anyone else and will not be kept in any way.
7.I reserve the right to remove entries that I believe aren't human created or are an attempt to gain an unfair advantage such as automated entries.
8.You have 8 days to respond to my email after which point I will choose someone else to win.