December 10, 2015
Festive Toblerone Tray Bake with Cranberries, Pistachios and a Cinnamon Cream Cheese Frosting Recipe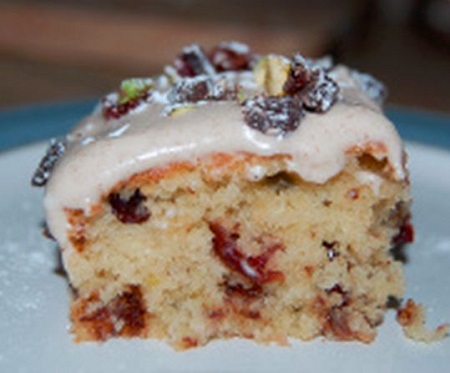 I am about to change your life – are you ready for it. No, I'm serious – are you ready for it? This is about to change everything in your life and it will never be the same again.
Ready?
Lakeland have disposable tray bake moulds. MIND. BLOWN. *kaboom* Yep, now you can shove these suckers straight into the freezer and BOOM done. Gifts – DONE. I know – go – go and order. I'll wait.
Right – OK now I found a whole bunch of Toblerone bars from a trip and I had these trays from an order I did for my mom and I needed to do something Christmassy for the office and I thought – WTF I'll just riff off something I saw online and make a tray bake. The festive red and green from the pistachio and cranberry along with the cinnamon spiced frosting bring everything that is Christmas to this cake.  Having had it trialled by the office, I think this is perfect to prepare ahead of time and serve Boxing Day as an easy dessert or even Christmas Eve (which is when traditionally I madly wrap presents). Also perfect for those "let's have coffee – I'll be over in 5min" afternoons 😉
Ingredients
Cake
125g unsalted butter (softened)
125g golden caster sugar
2 large eggs
150g self-raising flour (because I'm lazy)
1 tbsp milk
75g dried cranberries, roughly chopped
75g pistachios, roughly chopped
100g Toblerone, roughly chopped
1 tsp vanilla (Nielsen-Massey is my favourite and available from Lakeland too)
Pinch of salt
Frosting
60g unsalted butter at room temp
125g cream cheese
325g icing sugar
2.5 tsp ground cinnamon
2 Lakeland disposable tray bake moulds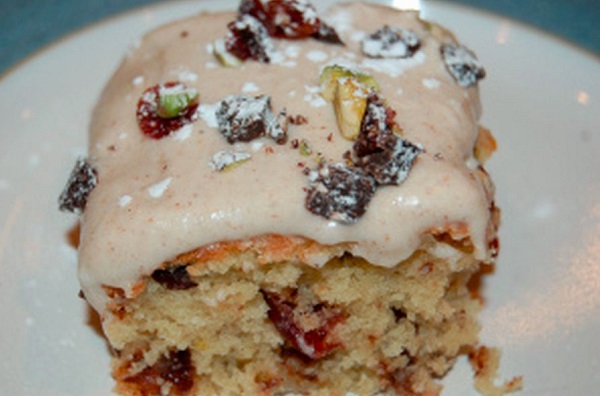 How to make it:
Pre heat the oven to 180C (I set mine to 170C because I have a fan oven).
Beat the butter in a bowl with an electric mixer until pale and creamy.  Add the sugar and vanilla and cream together.  Mixture should have a light and fluffy texture.
Gradually add eggs (I usually add them to one side) beating them in after each one.  Sift in flour and salt together, and then add milk by folding in.
Once the flour is almost folded in add the Toblerone, pistachios and cranberries, leaving a small handful of each on the side to scatter on the top once baked and iced to decorate and make it look pretty.
Pour mixture into two of those FRICKING AWESOME Lakeland moulds and gently smooth down (this mix will self-level but I've never trusted that so I smooth).
Bake in the oven for 20 mins until the top is golden brown and a skewer comes out clean.
Let the cakes cool in the moulds and if you are freezing this cake please do it without the frosting on because trust me, it doesn't work (yes, that came from bitter experience).
To make the frosting: blend the icing sugar and butter together carefully (so the sugar doesn't coat the whole kitchen) and then once blended add the cinnamon and finally the cream cheese.  Beat all of this together until it is light and fluffy.
Spread frosting carefully (or you'll tear the cake) and sprinkle with the cranberries, pistachios and Toblerone bits (with a sprinkling of icing sugar because Mary Berry would 😉 ). YUM!