October 2, 2013
Lindt Lindor Caramel truffle Balls Reviewed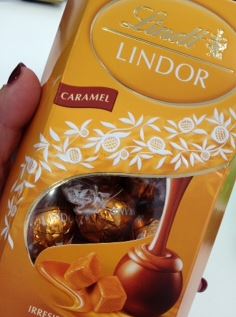 I think pretty much everyone loves Lindor. I remember how skeptical I was of them – a chocolate in a ball in a wrapper. My grandmother used to give me one or two and I'd never eat them, thinking them candy. One day I realised they were chocolate and tried one and was forever converted.
I'm not as big a fan of the flavours as the original but I do still like them. My office loves them 🙂 and they are, after all, the target market. When I got the caramel filled Lindor from Lindt I wasn't sure what to expect. Part of me hoped for a darker milk chocolate shell encasing a runny caramel filling. What we all got at the office through was something just as interesting.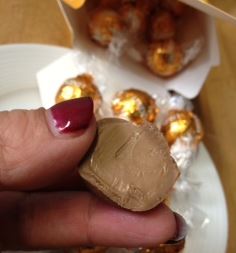 The ball is the same Lindt Lindor milk chocolate shell, the difference is the inside now have an intense caramel flavour. Unlike the Starbucks Caramel Frapuccino I had to throw in the bin, these do not have a bad artificial flavour. They are delicious and delightful and they split Lindor fans (some liked coconut better). I found them a bit too sweet but still the caramel flavour was kind to the chocolate.
I feel like it is so rare to get a good caramel flavour in a commercial chocolate that I have to specifically call these out, but we don't expect anything less from Lindt than perfection. Thank you Lindor for reminding me that caramel flavoured chocolate can be great – if slightly too sweet for me. Still sticking to my original Lindor 😉