October 8, 2013
Lily Vanilli Loves Cadbury Crispello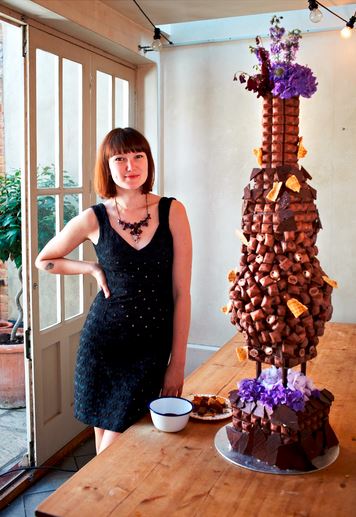 Sadly I missed out on my chance to meet Lily Vanilli but I did get the chance to send her some questions and get her to answer them. As a star baker (so to speak) I was excited to ask her about her work with Cadbury, what got her into baking for a living and what she advised my readers to try out. I always want to know what bakers recommend beginners advise people to bake for fun 🙂
Please tell us here at Mostly About Chocolate about your work with Cadbury Crispello
I've been working with Cadbury Crispello to create a simple but visually stunning dinner party piece. The idea was to re-invent the traditional croquembouche, creating a fully edible tower. The idea came about because Cadbury Crispello pieces are easy to build with – shaped like little chocolate bricks, but the wafer and mousse centre is actually very light so they stack nicely.
What inspired you to first take the plunge as a baker?
Necessity was the mother of this venture. I was a keen hobby baker but it was the recession and a lack of employment that forced me to fall back on my skills and turn a hobby into a living.
What are your feelings on the current cupcake craze – boon or bane?
I feel that the craze is long since over, but that cupcakes have become an everyday item that's here to stay (for a while at least).
Have you found a specific chocolate that you prefer to work with and why?
It depends on what I'm making but Amedei is a wonderful chocolate.
What are the three essential things any home baker should ensure are always in the cupboard and how often should they be replaced for freshness sake?
Good quality flaked salt, like Malden. good quality chocolate. fresh fruit.
Do you have any tips for those of us who are struggling to use real chocolate (not just cocoa powder) in our recipes such as how to avoid cooking our eggs when adding melted chocolate and is old chocolate OK to use in baking even if it has bloomed?
Always melt chocolate in a double boiler to control heat transfer and melting temperature, and wait until it is cooled before adding it to a cake mixture. Don't stress if your chocolate has bloomed, if you are melting it down it will be fine. Just check the best before date as with any food item.
What recipe would you recommend to really inspire budding bakers reading this interview?
Try a flourless chocolate cake. It's easy to make, delicious, gluten free and maximum chocolate.
Dazzle your friends and cheat your way to a delicious new culinary creation courtesy of Cadbury Crispello and sweet treat baker, Lily Vanilli. Known for her exciting and adventurous creations, Lily has embarked on a new chocolaty mission to create the perfect dessert; The Cadbury Crispello Tower.
Made up of individual Crispello pieces filled with creamy mousse, drizzled with Cadbury Milk Chocolate and dressed with crisp wafer, the Crispello Tower is the perfect party piece to make any dinner party that little bit tastier. So step away from the profiteroles and bring something new to the table with this delicious dessert that is sure to wow your guests.
Sandra Ferreira, Brand Manager for Cadbury Crispello said "We've teamed up with baker extraordinaire Lily to create a decadent dessert that requires minimal effort for maximum reward. The Cadbury Crispello Tower is a show-stopping masterpiece which is so easy to make… all you need is Cadbury Crispello!"
Lily Vanilli said "It was so exciting to be asked by Cadbury Crispello to come up with some hassle-free desserts. A whole tower of chocolate is surely everyone's dream!  Simply assemble, choose your topping (dark, milk or white chocolate) and watch your friends look on in awe."
Look out for other delicious Cadbury Crispello recipes such as Lily's one-of-a-kind Crispello Mille Feuille and a Crispello ice cream, tasty enough to rival the recipes of the Great British Bake Off!
To make your own Cadbury Crispello Tower visit www.facebook.com/cadburyuk for the recipe or ask Lily for a cheeky favour and sneakily order a bespoke version from the Lily Vanilli Bakery, but be quick as it's available for a limited time only.