September 12, 2014
Illanka Truffles by Nadege Toronto Reviewed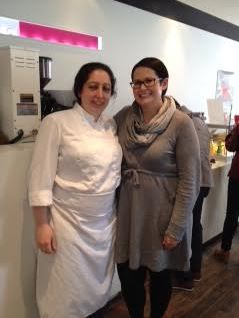 While I was in Toronto, and in fact I think less than 24h after I landed, I found myself in Nadege Patesserie on Queen St West with the owner herself, two Valrhona representatives and the Valrhona chef who was teaching everyone to make things using Valrhona.
One of the things about Toronto that has always upset me is the lack of high quality chocolate. Places I have reviewed (and refused to review) before are using lower quality coverture and trying to do amazing things when their base chocolate tastes like West African reject beans were used. It is impossible to make something delicious when you are using crap. So I have resigned myself to go nowhere but Soma – until I discovered Nadege.
I was on a Toronto Tasty Tour when I first discovered Nadege and grilled the poor chef at the time about the chocolate. As I tried to get out of him who made his base chocolate, he desperately tried not to answer so I left without trying anything which was a shame. Had I know it was Valrhona and not another chocolate, I would have bought a few bars.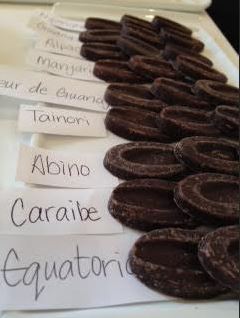 This time I was able to try all the covertures they were working with (some only available to chefs which was a shame!) and the brand new exclusive Illanka. This 63% Peruvian chocolate has all the classic hallmarks of the Peruvian bean – flat chocolate with no surprised, low acidity and rich deep flavour.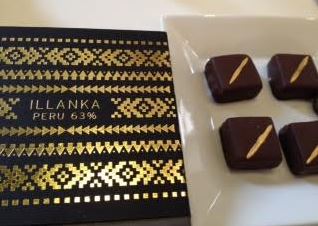 Nadege has turned this limited edition exclusive into a truffle – a ganache filling with a light chocolate shell with a stripe of gold – the perfect complement to the rich and exclusive chocolate. The deep powerful notes of the chocolate flavour come through in the ganache as you let it melt in your mouth after biting through the exterior. The silky chocolate melts but without being too sweet – it coats the inside of your mouth like a chocolaty hug and seeks out every nook and cranny until your world exists of nothing but chocolate. It's as though the chocolate seeks to take over every sense and coat it in chocolate.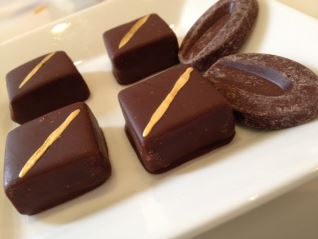 These wonderful truffles were limited by the amount of chocolate Valrhona was exclusively importing n to Canada and not the US 😛 so if she still has some, I recommend ordering 2 boxes immediately and having one a day, then ordering more. I may be a fan of red fruits and acidity but this chocolate blew my mind. Worried you'll eat too many – don't. They are so rich you'll only be able to manage one!