September 15, 2014
Prestat Pecan & Maple Dream and Toasted Pistachio Reviewed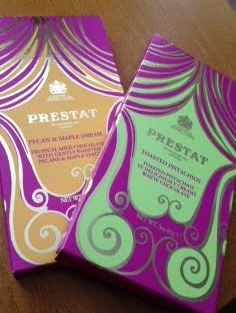 Prestat's roots begin in 1902 in London by Chocolatier extraordinaire Antoine Dufour, following his family's creation of the chocolate truffle in Chambery, France, in 1895. Antoine saw an opportunity to bring his skills to London, where chocolate cafes and shops known as Refreshment Rooms were growing in popularity. With Antoine's flair for creativity and perfection, Prestat became an instant success. Since then Prestat has been through a number of hands, coming to rest in the hands of the current owners many years ago now. They are constantly trying to innovate and so comes these two bars.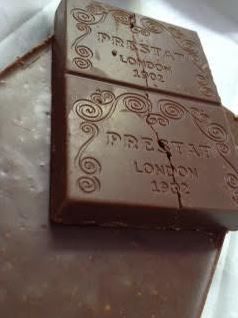 Pecan & Maple Dream: Prestat has been around a long time and they are always trying something new. This time, they have taken my two favourite things (pecans and maple syrup) and put them in the milk chocolate they use. I found it a bit sweet and with the pecans so finely chopped it wasn't quite to my taste but if you are a fan of the sweeter side of things you will absolutely love this.
Of the Pecan and Maple Dream Bar, Prestat say "Pecans are the sweetest, most scrumptious of nuts and always the first to get picked out from an assortment of nuts. This bar has nothing but pecans and more pecans mixed with luscious maple syrup and velvety milk chocolate. It is a terribly indulgent bar, almost sinful but quite impossible not to enjoy, love and cherish."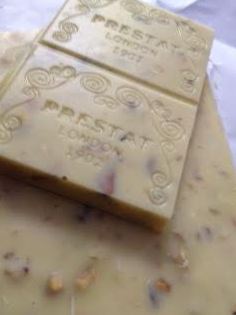 Toasted Pistachio: The fondness people have for pistachios and white chocolate comes together in this bar. Far too sweet for me  with too much vanilla, I can understand why some people will enjoy it. There is a generous amount of toasted pistachio in the bar with the white chocolate but I find the flavour of the pistachio very mild.
Of the toasted pistachio bar, Prestat say: "Prestat's finest creamy white chocolate is the platform for the delicately nutty but tremendously more-ish flavour of toasted pistachios. This is a chocolate bar to relax with, nibble a piece and engage in romantic dreams of eternal sunshine, clear skies, desert dunes, a burst of sunlight with Lawrence of Arabia riding by, his white robes fluttering in the light breeze…"
So both bars were off the charts on sweetness but I know that a lot of people love sweet chocolate. If you are a sweet lover, these are for you. If you are more a dark chocolate fan I would advise to check into the dark bars reviewed here.