September 17, 2014
Idilio Porcelana Criollo Puro Chocolate Bar Reviewed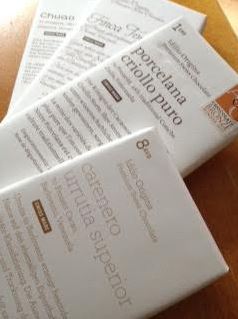 I was gifted these bars for review and each post will review a different bar mainly because it is easier for others to find out what they taste like that way 🙂
There are many parts to the company name – apparently the "Origins" part refers to the company's philosophy to focus on selected individual flavours and the finest types of cacao and to work directly with local producers to ensure the perfect transport of cocoa beans from their sources to the Swiss chocolate production facility itself.
This Porcelana bar is a 74 percent bar, it has a 48h traditional conche meaning the particle size should be small. The actual origin of the beans is Zulia, Venezuela.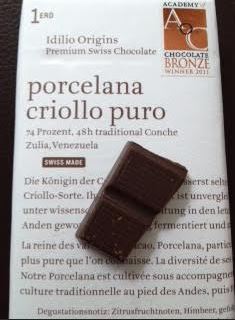 The Idilo website apparently says of this bar: "The Queen of Cacaosorten, the extremely rare and noble Porcelana, is the purest known Criollo variety. Their diversity is incomparable flavours harmoniously. Our Porcelana is produced under scientific supervision in the past traditional areas at the foot of the Andes, carefully fermented and gently dried in the sun."
The scent is heavenly – red fruits and chocolate but a light chocolate. The taste is divine – a wonderful rich chocolate flavour which evolves into a touch of honeyed fruits and a silky mouth feel. Oh so gorgeous and fast to melt in your mouth with a wonderful long finish to it. The beans are just roasted perfectly and it sings of sunshine and deep, dark earth. Whoops sorry 😉 it is just such a gorgeous chocolate I could sit for hours and just eat a few pieces slowly – enjoying every second of its lush deliciousness.
I cannot recommend this highly enough – absolute perfection! You can buy it online at www.idilio.ch plus you can read about where you can buy it locally