July 11, 2012
Tasty Tours Toronto Chocolate Tour Reviewed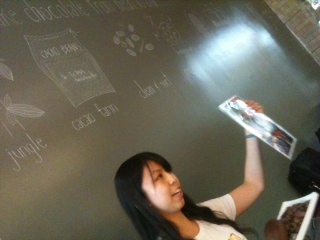 When I was back home, I was invited as a guest of Tasty Tours to try out their Chocolate Tour. I was on one of the first tours, it having been created only two month prior but the tour guide and founder of Tasty Tours Audrey Ooi. These tours were selling out so I got there early for a chat with the founder at their first stop on the chocolate tour, Soma Chocolate's new shop at King and Spadina.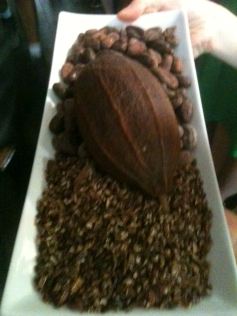 Audrey is an enthusiastic chocolate lover and she created the chocolate tour after learning about and researching chocolate. She starts at the best place in Toronto. Unlike London (UK), the chocolate shops in Toronto are fairly spread out. We have only one bean to bar manufacturer (as opposed to the UKs two) and Soma is it and they are GLORIOUS. I've already hit this place once and dropped $200 and I'm back for more! Anyone visiting Toronto should absolutely visit one of Soma's two shops. They create award-winning chocolate that ranks among the world's best and you can watch them create magic in the Distillery shop.
At Soma we get a talk about how chocolate is made from bean to bar as well as trying some and I learn that here, unlike some other places, they use a melangeur to refine and further refine and conch in a single machine. Very interesting! We shop around and take off down the road for our next stop, a deli shop.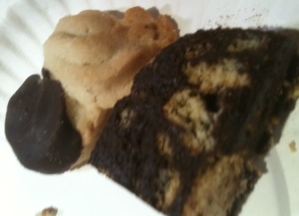 Alimento is across the street from Soma and is an Aladdin's Cave of delights. This deli shop is a great place with all sorts of chocolate for sale (from Nestle so I assume Nestle has bought a small chocolate maker and let them keep their identity) as well as making lots of chocolate treats from recipes that the owners have brought back with them from their parents in Italy. We try a chocolate salami which I think is just cookies in a soft chocolate. We also try some  tiramisu which I absolutely inhale before taking a picture. Just goes to show how absolutely delightful it was. The cookie was divine – half chocolate dipped, all buttery loveliness!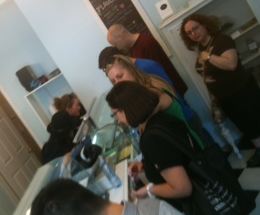 Now we walk. I know where we are going and I know it is a long walk making me grateful for wearing my running shoes. Delight is quite far from Alimento but well worth the walk. If I remember correctly, Delight uses a Belgian style which means the chocolates are somewhat larger, with a sweetly fatty center, unlike the ganaches I favour. I don't mind this style but French is more my favourite. Here we get to choose a single chocolate to sample (paid for by the tour of course as all the samples are I think but I'm not sure) and I choose Earl Grey which was yummy.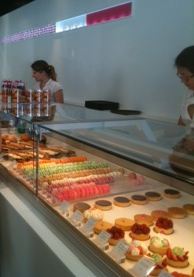 Now we walk to a new place I've never been to before – Nadege and it is my undoing of a sort. I'm all full of questions and try and buy a bar of chocolate representative of the chocolatiers art. The chocolatier on site keeps trying to sell me on a particular type of Valrhona and after naming the coverture he is trying to sell me I again ask him to recommend a bar that he is stuck extolling the virtues of a single Valrhona coverture, with no additions. I give up as the tour is leaving but not before regretting not being able to indulge in some patisserie. This is a place I absolutely have to come back to. It is different to Dufflet as this place does macarons and patisserie.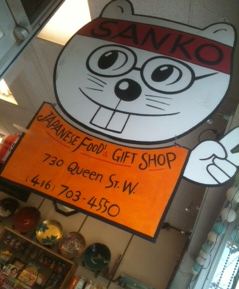 We rush off to Sanko, with me having delayed the tour. This is a brilliant place. I buy some special limited edition Kit Kat's in cherry blossom and green tea flavour that we tried and learned that Kit Kat in Japanese sounds like "together we will succeed" and is now given as a gift before exams. These wacky Japanese flavours are getting to be popular all over the world and us chocolate bloggers are making them popular too 😉 I also buy some plain green tea Kit Kat's and we head off to the last stop.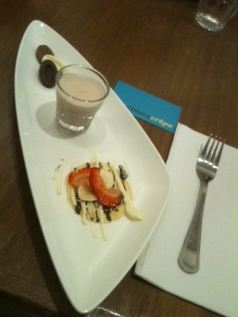 Our last stop is at Chococrepe who use Valrhona as their chocolate of choice. I totally approve of their chocolate choice, demonstrating Torontonians are maturing in their taste. Here we get a delightful milk chocolate hot chocolate, a chocolate mini crepe with strawberries, drizzled with chocolate and three covertures to try. We get a bit of a talk and end our tour here.
It was an amazing day and totally worth it. You'll get taken to some of the best chocolate shops in Toronto and learn quite a bit as you go.