September 10, 2014
Domori Hot Chocolate at the Illy Café on Regent Street Reviewed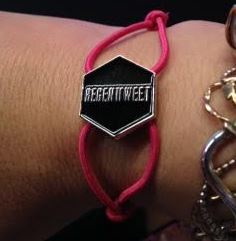 As part of the RegentTweet event, the Illy Café on Regent Street just north of Oxford Street (meaning you walk towards the BBC, away from the Apple store at the corner) held an espresso art event and gave away an absolutely adorable espresso cup and saucer decorated beautifully by one of four artists. The latte art was a demonstration of the kind of latte art they put on a cappuccino or latte or in my case, hot chocolate.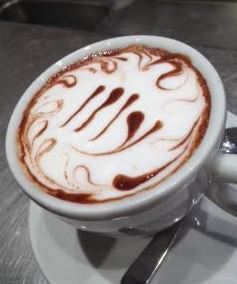 I thought that since I had a cup of hot chocolate in my hand made from Domori chocolate that I would take the opportunity to review it. The latte art on it was absolutely beautiful and I loved that there was any art 🙂 The cup was the perfect size to keep it warm and the shop itself was amazing, decorated with espresso cups and saucers in a giant chandelier, comfortable chairs (though no comfy chairs), and tables that did not wobble – a seeming rare find in London.
The location is slightly off the beaten Regent St track, being situated just north of Oxford Circus. It isn't among the very busy Piccadilly Circus to Oxford Circus run so has a less hurried atmosphere when I was there. The staff are AMAZING and make you feel like you are the only person in the shop. I really enjoyed my visit from an atmosphere experience but the real  treat is in the tasting.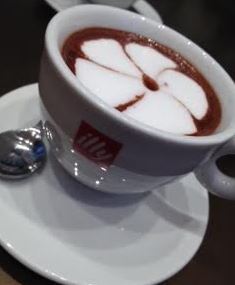 My hot chocolate was just the perfect temperature – no scalding burning of mouth but still hot enough that it gives that pleasant warming feeling like a cuddle-hug. The flavour is of a rich deep chocolate with few confusing notes. The taste isn't too nutty but really just features that single chocolate note through. It is actually not too sweet so sweet lovers you are going to have to add some sugar but as a chocolate lover, it was perfect.
I really do recommend this hot chocolate experience and while I know it is intended to be a shop for Illy coffee, with Domori as their chocolate brand you are always going to be guaranteed the perfect hot chocolate.