October 12, 2012
An Amadei Adventure With Cecilla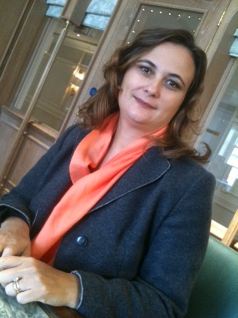 Regular readers (or whose who have used the archives) will know that I have had limited success with Amadei. You'll have read my scathing review of their Chuao and my mixed review of the meh milk chocolate and each time has been me buying the chocolate.
So when I heard through the grapevine that Cecillia was in town leading people through tastings of Amadei chocolate at Fortnum & Masons put on by the lovely folk at King's Fine foods, I explained my history and asked if there was any time. Initially there was none but Cecillia kindly gave up her lunch time to walk me through 12 of their chocolates, both blended and single origin.
Amadei has been making chocolate in Italy for 22 years but I think possibly Cecillia has been making chocolate for longer. The chocolate has only been on the market for 14 years though. She told me it took her 8 years to create chocolate, first training all around the world in how to make chocolate. As a woman in a very male-dominated world I cannot imagine what she must have had to go through.
The first chocolate Cecillia created was the Toscano Black 70% which as I tasted it was an interesting combination of light acidity, slight fruit and a bit of either raw nut or wood. Cecillia is also very specific about which harvest she buys from – she buys the December to March harvest only. She is passionate about making everything from bean to bar and her pralines go from bean to praline – of the top notch chocolateiers, only Amadei and Pierre Marcolini go from bean to coverture to filled chocolate.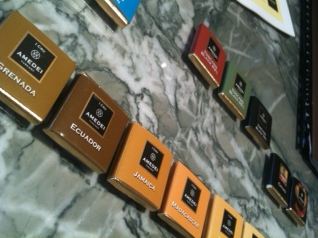 Amadei works with only the smallest farmers if I understood Cecilla correctly. They want to find farmers who have only 7 or 8 trees, where the chocolate is their life's work and therefore is of the highest quality. Cecillia works on blending not only beans but even milk to create the milk in the white and milk chocolate bars. Amadei had the original exclusive access to chuao and the bar is actually made from 3 different bean sources – something evident in the tasting. The chuao I tasted this time had flaqvour but there were three sharply separated tastes – nuttiness, acidity then red fruits. Not the usual cacophony of tastes of my beloved Soma Chuao but more of a 3-step process.
I think of all the blends she has made, she shone the most when talking about the bar called "9". This bar, she told me, took 2 years to create and all her chocolate requires annual adjustments as growing conditions and therefore flavours change so much from year to year. The "9" bar was a much smoother progression through a variety of flavours, unlike the chuao which was so staccato. The "9" bar smoothly progresses through a variety of flavours, changing and evolving.
Among the 12 different chocolates I tried were the various single origins. I was extremely interested to hear that the Ecuador was a forrestarro as I had always thought the Arriba Nacional bean was different or perhaps Cecillia made the point that it was forrestarro as that is what they are buying and not the Arriba Nacional. Regardless, this was earthier than usual and I didn't get the jasmine I've been tasting of late though I did get a bit of purple fruit.
The Jamaican and Trinidad stood out for me as being chocolates I would liken to being slapped round the face with a wet fish. These chocolates grab you by the scruff of the collar as soon as you place them in your mouth and shake you until the change falls out of your pockets. These are some powerfully intense chocolates and I can only hope the bars are like this because if so WOW do I ever recommend them. Now I know how Usain Bolt wins – he has some of this chocolate as the gun goes off and it throws him down the length of the track!
Of the origins I tried, those two really stood out but they all really had a flavour, were not over conched and displayed some of the unique qualities of the bean. Even the Grenada chocolate had a unique and distinct flavour.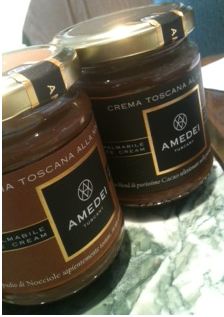 The chocolate hazelnut spreads were both unique and quite different. The dark with an intense, robust hazelnut flavour which was quite punchy and the milk with a softer, more Nutella type of flavour.
Overall, this tasting session with Cecillia was a real eye-opener. Whether it is because my luck with buying chocolate at Liberty (where I have found out-of-date chocolate, chocolate in the window, damaged chocolate and more crimes against chocmanity) is bad or for some other reason, this was a radically different experience with Amedei than I have had in the past, On leaving I got a flyer regarding visiting the factory which I just may do one day…