June 24, 2011
Amedei Chuao Chocolate Bar Review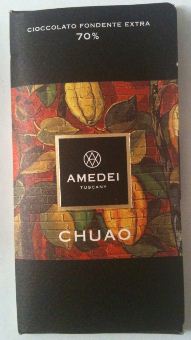 After Soma, every chuao is going to be a disappointment. I know Amedei has won awards but I can't see the chuao is going to beat Soma. I still bought one and decided to try it because it is unfair to simply ignore something because you've had the best already.
It was a rainy day when I bought this chocolate. Rainy, and a weekend and I had ventured into London at the weekend, in the rain. I have no idea why I subject myself to these things at times but some madness drove me not only to London but to Liberty to discover their chocolate section.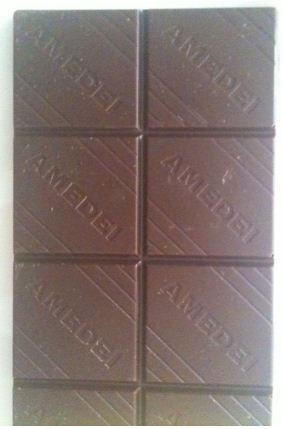 I saw the chuao in a glass jar and stopped and stared and the people around me must have thought I was somewhat crazy. I pondered. I hummed. I hawed. I was in deep thought considering if something I knew would disappoint after the glory of Soma was worth £6.50 for 50g. I then decided it was only fair to try.
Raisins. I got raisins but it is still rather flat. I'm missing my red fruit and acidic edge. I'm missing that bold delicious flavour leaping out of the bar. I'm missing all of the things that made me love Soma's chuao.
I know that Amedei is a small manufacturer but surely they could get more out of the beans than flat chocolate and raisins. On a plus side they got raisins which is a heck of a lot more than others have managed!
So not bad and since you can't yet get Soma in the UK if you need an urgent fix this isn't bad. I'd recommend that you buy Soma and pay to have it shipped because you'll be blown away.