October 11, 2012
William Curley Laurent Perrier Champagne Truffle Launch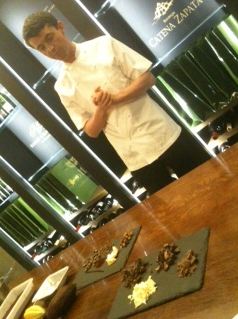 With some of the most delicious patisserie in London on offer, the lunch of the William Curley champagne truffle made with Laurent Perrier champagne was *the* place to be Monday night. Most "champagne truffles" are made with marc de champagne which isn't champagne at all so it is rare to find a champagne truffle made with real champagne.
A partnership between Laurent Perrier and master chocolatier William Curley, this truffle was created to mark the 200th birthday of Laurent Perrier. It seems only fitting that one of my favourite champagnes paired with one of my favourite chocolatiers to create a delightful chocolate truffle that is rather unique.
Apparently Laurent Perrier like to do things of astrological significance but not being an astrologer, I could not say what the formation of the stars were over Harrods on the 8th of October at 6pm which I suppose would be the official birth time and date of the Laurent Perrier champagne chocolate truffle – only that it and its sister Laurent Perrier Vintage bellini with the delightful jelly were both beautifully constructed and tasted amazing.
Of course, the patisserie on offer were also delightful. William has been awarded master chocolatier by the Academy of Chocolate the most number of times of anyone and although he currently holds the title with two other people, it is to his shop in Belgravia I return time after time to purchase the dessert bar from. Last time I was there I also indulged in champagne and what a delight – but that is a tale for another blog post where I can talk you through the desserts I bought and munched on
This chocolate champagne truffle and sister vintage bellini chocolate will be available EXCLUSIVELY in Harrods for Chocolate Week. You can buy gift packs of champers and choccies in Harrods and William's Belgravia shop from November though.