October 10, 2012
WIN Lindt Chocolate and Wine to Pair it With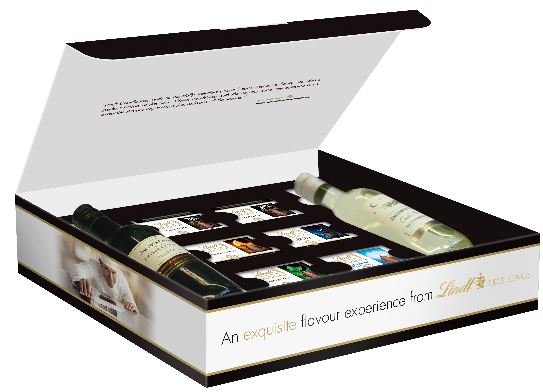 So you want to pair wine and chocolate and you're not sure what with what? Well, Lindt have some up with a handy pack that makes it easy!
Included in the Lindt chocolate and wine tasting pairing pack is:
2X Excellence dark 70% Cocoa mini (1 square individually wrapped)
2X Excellence dark 85% Cocoa
2X Excellence dark Orange intense
2X Excellence dark Sea salt
2X Excellence dark mint
2X Excellence Extra creamy milk
In terms of the mini bottles of wine, we have a Cool Harvest Sauvignon Blanc – this will be paired with Mint Intense and Jacobs Creek Shiraz Cabernet – this will be paired with 85% Cocoa.
You want this, don't you? I'm thinking a night in, some friends and a lot of Lindt chocolate and a *LOT* of wine – I'm sure your friends will contribute as well *hic*!Nothing quite like discovering the perfect pairing of chocolate and wine and you *CAN* get this at Chocolate Unwrapped IN PERSON (we have special discount tickets available HERE) or from us and Lindy mailed to you!
Well, leave a comment below with a poem about Lindt chocolate or wine or both Lindt Chocolate and Wine and make sure you're subscribed to the mailing list. This is alcohol and it is heavy so I'm afraid it is for shipping in the UK only.
The rules:
1.The competition will finish at noon GMT on Wednesday 17th October 2012.
2.The selection of winner will be based on originality of poem for blog comments and membership of the mailing list
3.Only available to UK addresses.
4.No cash alternative available.
5.I reserve the right to exclude entries that I feel are inappropriate or not in the spirit of the competition. No pornographic poems please.
6.Your details won't be passed onto anyone else except the agency for Lindt who are providing this amazing gift and will be sending it to you directly.
7.I reserve the right to remove entries that I believe aren't human created or are an attempt to gain an unfair advantage such as automated entries.