Tag Archives:
recipe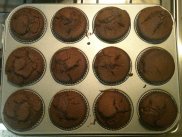 You know those days when nothing but a mug of tea (or coffee) and a lovely chocolate muffin will do?  I have a lot of those and as a result I've found myself cooking brownies, cookies and muffins all too ...
Facebook
Subscribe
Check out my Recipes, Reviews and more!
Links on this Blog
All links on this blog are editorially given. Do not contact me for link exchanges. Reviews do not guarantee links. I do not add links to articles already written unless I want to, and any requests to do so will be refused (and may result in the review being withdrawn). I reserve the right to remove links from reviews at any time for any reason including but not limited to whim. I am not your link bitch, don't try and treat me as such.
Grammar Warning: I am clearly aware that my grammar is sub par. Please excuse any typos or miss-spelling of words you may come across when reading this blog. There is no need to write or notify me. Thank You Kindly.



Judging has finished for bonbons and flavoured bars for the 2018 @acadofchocolate Awards. Such brilliant innovation and excellence and an amazing array of flavours!
I volunteer my time to judging despite not being paid because I believe it helps push the industry further. I have finished the week absolutely exhausted but pleased I was able to help highlight excellence in an industry I both love and write about.
Stay awesome chocolatiers!
.
.
.
#chocolate🍫 #insta_food #foodpics #foodblogger #foodblog #ukfoodblog #foodbloguk #instafoodblogger #instadaily #chocolate #ganache #chocolatier #bonbons #chocolatebonbons #🍫 http://ift.tt/2C3DBx7




If you want to taste some of the best quality #chocolate🍫 available then get to your local #cafenero and buy these little beauties! Packing a flavourful punch, let the chocolate melt slowly in your mouth for the full, pro chocolate taster experience.
This year for Valentines Day, Easter, birthdays or whenever choose quality chocolate made locally in Devon - choose @williescacao every time!
.
.
.
#igers #lovelondon #lovebritain #insta_food #foodpics #foodblogger #foodblog #ukfoodblog #foodbloguk #instafoodblogger #instadaily #bestchocolate #qualitychocolate #ukchocolate #ethicalchocolate #williescacao #darkchocolate #darkchocolate🍫 #milkchocolate #milkchocolate🍫 http://ift.tt/2E3zyhO
This Site Uses Cookies for Analytics
If you don't want to be analyticsalised with a cookie from Google, best pop off to another site.
badges