November 11, 2011
Toblerone Tricolour Decadent Brownie Recipe
I call these "decadent brownies" because they are extremely chocolaty. I've recommended a baking time which gives you a more cakey brownie but just reduce by 3 – 5 minutes for a more fudgy one.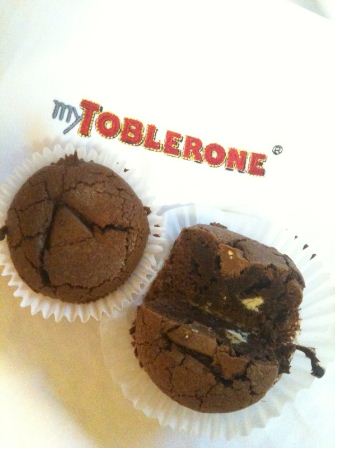 300g unsalted butter
300g dark chocolate – I used a mix but 70% from Green & Blacks is perfect
5 large free-range eggs
450g caster sugar
1 tbsp vanilla extract
200g plain flour (must not be self-raising!)
1 teaspoon salt
9 Toblerone Minis – 3 white, 3 milk & 3 dark cut into their individual triangles
Preheat  the oven on to 180C
Place 12 muffin cases in a 12-hole muffin tray
In a bain-marie (I placed medium metal mixing bowl over small saucepan half full of water & brought to simmer) I melted the most of the chocolate first slowly then added the butter to melt & mix together.  This is important as if you try and melt this in a pot over direct heat the chocolate will cook & not work in the brownies.  Mix regularly but not constantly. I used my spatula 🙂
Next I beat the eggs, sugar and vanilla together in another bowl.  Beat well until the creamy mixture coats the back of the spoon
Next, slowly and carefully add the chocolate to the egg mixture with a hand mixer or other electric mixer.
Now sift the flour and salt together into the mixture but use only a spoon or other manual (with your hand) device as otherwise you mix in too much air.
In the bottom of each cupcake paper add a single white chocolate triangle.
Add a single spoonful of mixture.
Add a dark chocolate triangle.
Add another spoonful and a half of mixture.
Top with a milk chocolate triangle.
You will have some mixture left over to make more with!
Bake for 20 – 25 minutes depending on how cakey you wish them.  20 minutes will make it a more fudgy brownie. If you want it more cakey, when you poke a straw in from your kitchen witch it will come out clean.  For fudgy brownies, the straw will come out with some mix still clinging to it.