November 10, 2011
Fortnum & Mason Hot Chocolate Review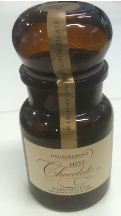 As part of Chocolate Week events, Fortnum & Mason contacted me about some stuff and I volunteered to review their hot chocolate as part of my week focusing on hot chocolates.  I thought that there was no better way to finish off hot chocolate week than with a post about one of the poshest but most delightful retailers around – Fortnum & Mason.
F & M is a well-established department store in one of London's poshest neighbourhoods and its competition is Harrods in many ways but unlike Harrods they don't have mass tourist appeal and seem to attract a slightly different mid to top end consumer.
Too many people think Harrod's is the be all and end all of posh shops.  They see anything with the logo as confirmation that you too are part of an elite club of people who shop at the poshest of shops.  I was always led to believe that Fortnum & Mason was among those upper echelons of quality and taste and I think if you check their chocolate section, hosting of the Academy of Chocolate awards ceremony and support of Chocolate Week (among other things) I think those of us in the know, know Fortnum & Mason is the poshest of the posh.
The stores are beautifully laid out with ornamentation that seems to keep the store in a perpetual state of Victorian splendour. Opened in the 1700's, they have held a number of royal warrants over the years.  Their first dates back over 150 years as they were appointed the grocers to HRH the Prince of Wales however importantly they got their confectionary royal warrant in 1867.  I wonder what hot chocolate was like then…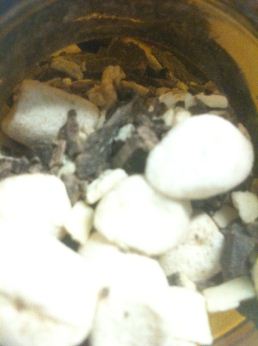 What I am doing, though, is getting to try what the hot chocolate from a Royal Warrant holder tastes like.  I wonder if this is what the Queen or Prince Phillip have when there is a chill in the palace?  I wonder if Will and Kate drank this in front of a fire après ski?  Whatever royalty has enjoyed this before, I, Judith Lewis, chocolate blogger and online marketing chick, am enjoying this now.
The instructions are difficult to follow because they (somewhat generically) tell you to create a paste from the chocolate flakes with hot milk.  Now, I don't know what I was meant to do with the marshmallows but it was nigh on impossible to get the flakes out without marshmallows in a measured way.  Abandoning the instructions and just doing what I could, I zapped some milk, added the flakes and a few marshmallows, whisked then zapped again and finally gave it a good long whisk.
This is a nice hot chocolate.  I have to reluctantly admit I focused less on the hot chocolate (which was lovely – among the best I've had in the last 15 I've tried) and more on the gloriously deep slide into my childhood where I used to add extra marshmallows from the Carnation Hot Chocolate.  I hated the envelopes because sometimes you only got a scant few marshmallows.  As I got older, I learned to ration my marshmallows to ensure every cup got a good large portion and I did here too but LOOK at how many GLORIOUS marshmallows I got in the mug!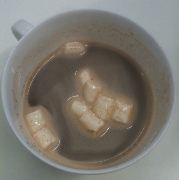 The hot chocolate is actually really nice but suffers from the gotta-have-a-whisk syndrome as making a paste is really hard (I eventually tried it). The flavour is nice and clean without the chemical flavour I find some have, and the marshmallows are HUGE for tiny marshmallows.  All in all this is the perfect hot choccy for a cold night and I hope Wills & Kate got to enjoy it at their lodge après ski.