November 14, 2011
Heavenly Cakes Gluten Free Flapjack & Shortbreads
I have trouble believing at times that anything "gluten free" will be any good.  I have an allergy to wheat and so while it won't kill me, it will make me very unwell.  That said, I decided to try the "Heavenly Cakes" gluten-free cakes I was sent by the company to try and see whether there was any possibility to get a good gluten-free cake.
I have to admit that I took small pieces at first and the pieces got progressively bigger as I tried each cake and realised that the cake was actually delicious and that just because they were gluten free didn't mean they tasted awful.  The three cakes I got were a Marathon Flapjack, a Millionaires Shortbread and a Lemon Meringue Shortbread.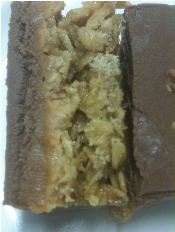 Gluten-Free Marathon Flapjack – not knowing a Marathon bar I didn't know what to expect.  This is interesting with a layer of chocolate, a layer of peanut butter and a layer of wholesome looking oats bound together with caramel.  All in all a definitely yummy gluten and WHEAT-FREE treat.  It was really sweet but cutting it into more bite sized pieces made it easier to consume.  The peanut butter was very strong and the whole office knew I had something with peanut butter when I ate that one!  I like the consistence here which is slightly chewy but firm and not too sweet.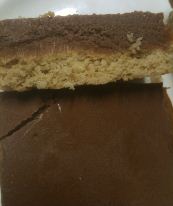 Gluten-Free Millionaires Shortbread – wow this was sweet and chewy! There nothing quite like a almond flour cookie and I'm assuming that's what we have here though I think there is also oat flour.  The caramel is chewy and I think that the chocolate has slightly changed here to and become slightly softer and joins with the caramel to be chewy.  The cookie is crumbly and doesn't hold its shape too long which is fine by me but is something to note as you tuck in.  I had to admit I like the Marathon Flapjack more and I didn't expect to but this is a bit too sweet for me whereas the peanut butter calmed things down for me in the Marathon Flapjack.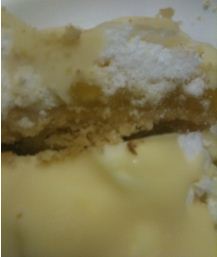 Lemon Meringue Shortbread – This was certainly different.  The white chocolate here is sweet but it is balanced off by a tartly acidic lemon and neutral but crunchy meringue.  Still a bit sweet for me and I would have loved more lemon curd as that really beautifully balanced it out but as it is this is a really sweet but lighter treat.
All in all I did enjoy these but could not have eaten a whole one.  While my favourite was the Marathon, the office favourite was absolutely the millionaires shortbread so I would say if your tastes tend towards the sweet, that was a delightful treat (gluten free or not).  If you don't want something quite so sweet, get the marathon flapjack and if you like sweet and white chocolate, absolutely go for the lemon meringue!
Wanna buy some?  Of course you do – so do I! Buy Heavenly Cakes here