November 14, 2011
Prestat Arriba Milk Chocolate Buttons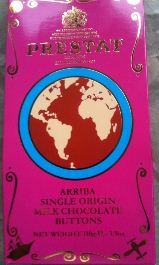 In a pink and gold Prestat box with little fanfare, a single origin milk chocolate button is listed on the Prestat website.  I have to admit that I chose this because it is rare that the somewhat earthy and yet still fruity Arriba Nacional bean is used in milk chocolate.  The flavours are bold in this bean but it is really easy to end up with something too earthy or too bitter.
I've had some stunning treatments of beans from Equador from Askinosie, Kokoa Collection and others but Prestat's single origin chocolates were new to me. While they are milk chocolate and slightly sweeter than I'm used to, it is still a single origin button and still an interesting addition ot the Prestat range.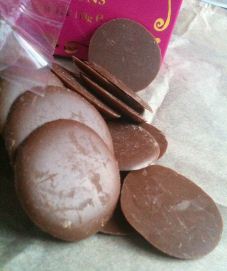 The chocolate itself does have a slightly vanilla flavour and the flavour of the milk powder does come through a bit but you aren't going to be analysing it when you're eating it now, are you? The milk chocolate is sweet, but not too sweet, and the consistency isn't too sticky in the mouth.  It melts well and tastes nice.  I'm not getting the red fruits I'd expect but there is a slight flavour of something there – I'm not sure quite what but it is distinctive.
All in all a surprising single origin chocolate button and I'm quite glad I got to try it.  If you want to get some nice, high quality milk chocolate buttons, this is absolutely an amazing find.  Order some up and have them on hand always. You can get these direct from the Prestat website or from Prestat stockists.