November 15, 2011
B-Tempted Dark Chocolate Shortbread Minis & Brownie Bites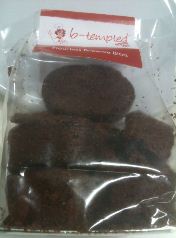 I probably shouldn't have tried these when I was hungry… I probably munched through more of these than I should have.  More brownies, more cookies… really should have shared… I'm sure I should have shared… 😉 naaaah!
B-Tempted is actually run by someone who isn't celiac but simply gluten intolerant.  She used to work as an investment banker but left to start a business she could believe in.  I could say something about making money from money being just too fictional to actually believe in, but I'll refrain 😉 B-Tempted has been creating their range of gluten-free cakes for awhile now and these cookies and brownies were something I spotted at the trade show Lunch! and luckily got a pack of each sent to me.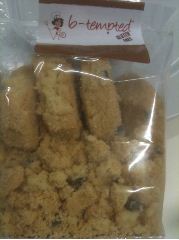 These packages, as you can already see, do need to be treated sympathetically.  They are a special type of flour and as such they aren't as indestructible as some other baked goodies.  I was hoping to be able to get some more sexy images to post with the blog but I wasn't able to get any so you can see what the Royal Mail did to my lovely cookies 🙁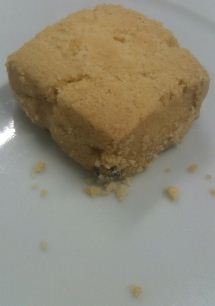 Chocolate Chip Shortbread – The bake is excellent and while there is a slightly different flavour to the cookie, this is because of the unique makeup of the 'flour'.  This shortbread is chunky, thick, crumbly, delicious and just about perfect.  I could not have imagined that something this good could have existed for someone like me with a wheat allergy.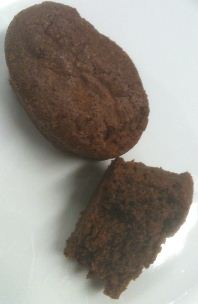 Brownie Bites – This was quite different from what I was expecting. Dry on the outside, these are moister on the inside with an almost nutty flavour from the almond flour.  The chocolate is rich and the brownies pretty much melt in your mouth.  I would happily buy more of these.
As you can see, these do need to be treated sympathetically as they do crumble (as all good cookies do) and so don't be rough with them but crumbled or whole, it does not matter because these are delicious and as someone who is allergic to wheat I'm thankful people like me finally have something delightfully decent to munch.  The office preferred the Heavenly Cakes I reviewed yesterday to the shortbread but everyone who tried some liked the almond-flavoured brownies. I'll be buying more and since I had to go find it, here is a link to B-Tempted Stockists