November 15, 2011
Charbonnel et Walker The Kings Ginger – A Right Royal Truffle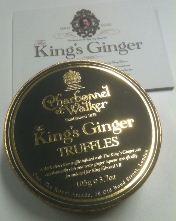 I've been waiting for these little beauties for awhile now.  In fact, I've known about them since Chocolate Unwrapped but as they had no samples to try, I was left wondering just what these confections would taste like.  Would they be like raw ginger?  Might they be more of a candied ginger flavour? Would they have chunks and what is with the royal moniker?  Well, I finally got a chance to try!
They arrived looking more splendidly royal than other Charbonnel et Walker Truffles with a splendid booklet explaining to me, a mere initiate, what I might expect of the chocolates.  No trifling ginger root was bring utilised in some royal way but rather a tipple from Berry Bros & Rudd fine wine and spirit merchants – just the type of chaps a girl loves to get to know about.
Apparently The King's Ginger is actually a liqueur created to revivify and stimulate His Majesty King Edward VII during morning rides in his new horseless carriage. Oh I say!  Thank goodness too because if he ended up exhausted too often we may never have seen the advancement we have today in the car (though I think shock absorbers and suspension were the most brilliant of inventions). I've never had the pleasure but I can imagine it must be delicious!  How? Well, I've eaten the truffle…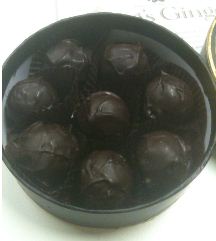 This is a very dark truffle.  It is dark chocolate ganache coated in dark chocolate. I think that it needed it although I do wonder how the sweeter milk chocolate ganache would have worked with the ginger liqueur or even keeping the dark chocolate ganache but balancing it with a sweeter milk shell then dipped in dark chocolate. Ahhh… dreaming of delicious combinations – but I digress…
The flavour is distinctive and very gingery without being warming or overpowering. I wasn't really aware of an alcoholic flavour though I did get the ginger as being more akin to Crabbies Ginger Beer than the wonderful Stone's Original Ginger Wine that I have tried previously (both the traditional and older varieties) and had intended to buy for the holidays. It could be possibly because I drink more Crabbies than Stone's Ginger Reserve but I once again digress into the world of alcohol and not chocolate…
The taste is typical Charbonnel et Walker.  I found the ganache slightly drier than I am used to though but this does keep it firm where many alcohol ganaches are quite wet.  The thick dark chocolate shell was quite typical of Charbonnel et Walker and so less ready to melt than some darks but with a good slightly longer shelf life so you can buy a box not and they'll be OK for Christmas.
I think I dream of pairing this with a milk chocolate because I just want that bit of extra moistness – a bit of give making it slightly less firm. I would have loved something a little moister on the inside but the lack of structural integrity would have made these difficult to ship and could have compromised the integrity of the shell as well so I understand why they are firm.  Still, a girl can dream of a dark chocolate truffle with a soft, alcoholic centre, can't she?
If you don't just want to dream about these chocolates, grab some before December 1st as they are only £10 and the price goes up after that to £11.,95 so safe yourself a few quid and start your Christmas shopping early!