November 16, 2011
Hope & Greenwood Rose and Violet Creams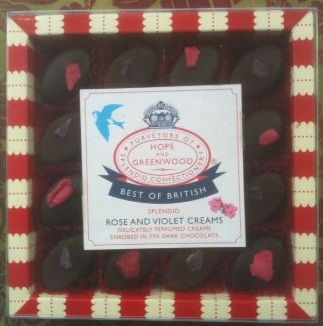 I love myself a bit of violet cream and a bit of rose cream I do I do I do.  I know that this isn't everyone's idea of lovely but I like something a bit sweet and traditional every once in awhile.  I long for a bit of oozing fondant or a bit of crystallised rose petal every once in awhile and so it was with a thrill in my heart that I received from Sweet Miss Hope herself (Twitter name @SweetMissHope) from Hope & Greenwood a GIANT box of these sweet treats.
Now, I'm not sure of the history of rose and violet creams but they come in different forms from the very liquid fondant to the firmer form I got in these chocolates.  I, frankly, like them all though the firmer form at least means a clean chin when I bite in to one.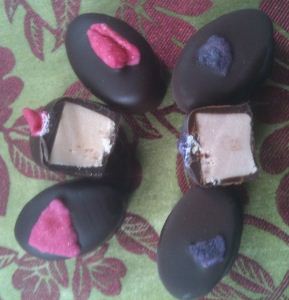 These rose and violet creams as you can see are encased in a dark chocolate shell and are delightfully firm.  The chocolate itself is slightly strong and a texture reminiscent of Prestat rose and violet creams (which you may remember were my very first choice when I was given the new retro packaging which I hope you've all bought a box of!).  Such prestigious chocolate to be similar to.
The fondant has a slightly grainy texture with a sweet flavour without being too sweet.  The dark chocolate balances off against the sweet filling to creat a delicious chocolate.  Now, these aren't going to be a confection that you can just eat the whole box of because they are sweet but that is only a good thing as it'll help you ensure you prolong the pleasure.
If you love sweet violet and rose creams you're going to very much enjoy these delights.  Why not have some handy for guests at the holidays?