November 16, 2011
Prestat Madgascar Dark Chocolate Buttons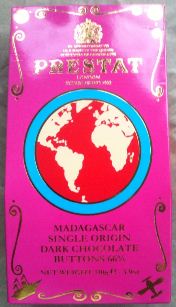 Prestat, I have to admit, is not the first place I'd think of looking for single origin chocolate and yet here I am tasting some single origin dark chocolate from them.  These buttons come in a really unassuming traditional Prestat box of pink and gold and I'm surprised it doesn't talk more about origins.
Madagascar is one of my favourite chocolate origins. Often rich, fruity and fascinating with infrequent  floral notes singling through a sea of rich deep chocolaty fudge notes.  Depending on the treatment of the bean, the roasting and conching, the beans show through different flavours.  Growing conditions, regions and soil also play a part in changing the flavour as does fermenting and whatnot.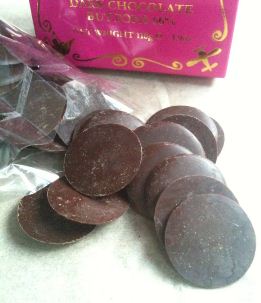 This chocolate has a slightly blunted edge, with a slightly drying, almost chalky initial edge to the chocolate, it mellows into a slightly dry fruit and leaves a flavour of dark chocolate for awhile in your mouth with the fruit coming through more clearly as time progresses.  It takes a long time for the chocolate to fade.
It is an interesting dark chocolate button.  While not a personal favourite it is only because I have 3kgs of chocolate at my disposal right now.  Prestat is more widely available than many chocolates and the single origin chocolate is actually pretty nice.  I think that it would likely be a good introduction to a step-up in quality chocolate.