November 17, 2011
Hope & Greenwood Fireside Truffle Selection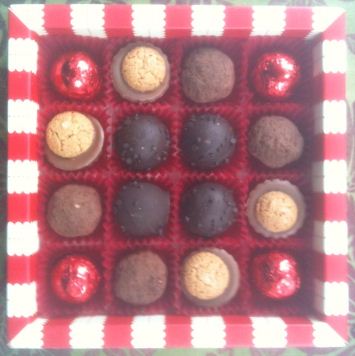 I think that this box may suffer slightly from being invisible.  What I mean is that you cannot see the lovely inside of the box.  The beautiful truffles are illustrated on the back but unlike other boxes of chocolates that Hope & Greenwood produce, you are not able to see inside.  However this is a blog and I have been gifted a box of these truffles by the Hope & Greenwood dynamic duo.
There are 4 different chocolates in this selection and they are all boozy! I wonder if Edward Bawden who inspired the print on the box would have enjoyed these choccies…?  Well, that's that this is all about though, right?  You don't just want to look at these beauties, you want to know if you should buy yourself a box (yes!) for yourself or as a gift, right? Well, here is what I thought…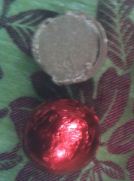 Double Whisky Truffle – you might wonder why I went for the heavily boozy chocolate first. It's been a long week, OK?  Well, I went boozy and boy oh boy was it boozy (and sweet).  Milk chocolate ball with a sweet milk chocolate and heavily boozy ganache.  It might be me but I think I might have tasted a slight smoky edge to the whisky 🙂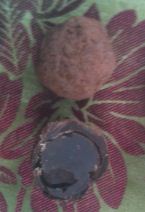 Warming Brandy Truffle – Well I certainly need this as it's goes a bit chilly here at Mostly About Chocolate towers.  This cocoa-dusted truffle isn't quite as intense as the whisky with the chocolate taking more of a front seat.  Maybe it is because I need more of a stiff drink or maybe by starting with the extreme booze I dulled my palette.  I liked this one though as it took the sweet edge off my palette.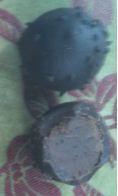 Rum Rations Truffle – strong and distinct rum flavour to this one.  Fans of the tipple are sure to approve of this choccie!  The shell is a bit thick for my personal taste but the filling is so delicious and boozy that I am willing to forgive the,  Besides, it means there more chocolate and they travel well (as they did for me!)
Crunchy Amaretto – I'm allergic to wheat (not gluten – wheat – the grain itself) and so I don't usually choose cookie-topped chocolates but I made an exception for this one .  The crunchy cookie was atop a sweet milk chocolate cup with a delightful amaretto ganache which was delicious.  The flavour is quite distinct from the other chocolates and the unique flavour of the Amaretto absolutely comes through.  The crunchy biscuit is delicious as well and I think it is a cute and appropriate addition.
What I think surprised me the most about these chocolates is that they actually tasted of the alcohol they were filled with (except the brandy one).  Now, I'm no expert and knowing what I was eating helped but when I knew and I looked for the flavour notes I was expecting, I found them based on my experience with whisky, run and other alcohols.  Usually these type of chocolates just taste of alcohol but these were delightfully aligned with the alcohol they are filled with (except the brandy 😉 ).
I think this might be my favourite selection and as it is currently just £9.99 in the online shop, it is a steal.  If you're looking for a hostess gift or something for yourself to have as the nights get longer and colder, and if you like sweeter chocolate than I usually do (which would match the majority of people) then you're going to love these chocolates!