November 17, 2011
Guylian Post Pack of Heart Chocolates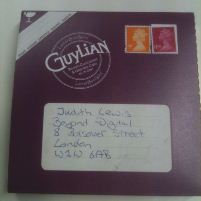 I received this little number in the mail.  In fact, it was designed for that very purpose.  This ingenious box is nothing short of genius!
This box of Guylian chocolate hearts was specifically designed to be posted to the person of your choice.  It comes with a card as part of the box's design and has a space for your message on the inside (or stickers and a message, or a pop-up message, or a small note, or an essay in 7pt font, no spaces, double sided).  The card is designed so the jacket wrapping around the outside that you write the address on is detachable so that the card can be displayed by the recipient for their birthday, Valentine's day or whenever.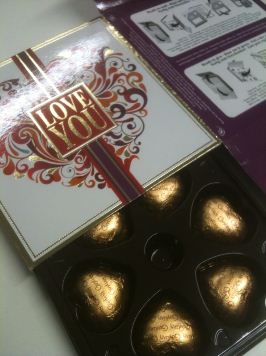 The chocolates are set snug within a plastic tray, adding to the structural integrity to the package on the post and preserving the chocolates it holds within.  The chocolates therefore arrive in perfect condition, whether you are in London, Oxfordshire (with one of the worst postal systems in the country) the Outer Hebrides or Australia (hint – our winter is their summer so ship your chocolate wisely).
I was really taken with this little box.  While I am not the world's biggest fan of Guylian, I will eat one at the holidays and loved their cute little sharing box last holiday season.  I love this posting pack because it just solved a bunch of gifts for me in one fell swoop!  I can buy a bunch, post them for a modest fee and the recipient gets something I know most chocolate eaters love (yes, I know, I have yet to convert many of my chocolate-consuming friends to the dark side of artisan chocolate).
This is a really cute idea from the folk at Guylian and I have a feeling a lot of these little boxes will be floating around this holiday season. Another tip – I know there is a bit of glue to stick the flaps down but you might want to be a bit paranoid and add a bit of tape too 😉