November 18, 2011
Hope & Greenwood Festive Christmas Truffles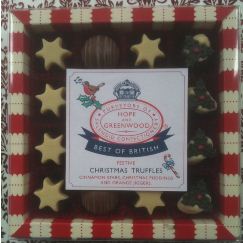 Oh I say chaps! These choccies from those right proper ol' boys and girls at that Hope & Greenwood place are spiffing!
I'm in love with the overall branding of Hope & Greenwood. I love the retro feel of the branding, I love the chocolates and I just love Miss Hope and Mr Greenwood.  I got the chance to meet the dynamic duo behind the Hope & Greenwood brand at the Speciality Food Fair – a trade event I attended to meet some of the people behind the brands.  It is not retail and you cannot buy anything but I was *extremely* lucky to have been given some amazing chocolates by Miss Hope herself (and Mr Greenwood of course!).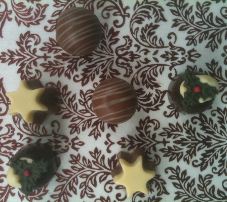 I'm also in love with these Christmas truffles.  I almost grabbed a bottle of mulled wine and heated some up to have with these as they just seemed to demand that kind of a pairing.  The box is cute, the selection is generous and the price is extremely reasonable.  But on to the chocolates…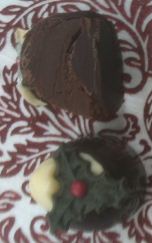 Christmas Pudding – I think I got a bit of raisin maybe before the rum?  I'm not sure as that might have been the chocolate.  You certainly are hit full on by the extreme boozy nature of this chocolate.  WOW!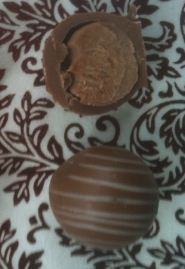 Orange Jigger – I have no idea what an "orange jigger" is but it must be a sweet, smooth orange with no bitter edge.  The shell on this chocolate is thicker than I usually enjoy but it diminished the pleasure not one jot.  This is delightful and delicious and it also carries husband's seal of approval!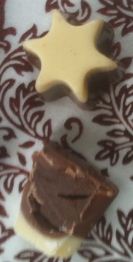 Cinnamon Stars – Weirdly this has the perfect balance of cinnamon for me.  It isn't too strong and the milk chocolate helps prevent it from being too bitter but the cinnamon flavour still goes through the ganache to make it a really yummy chocolate and perfect for the holidays with a bit of mulled wine.
All in all I think that these are quite sweet but the office does tend to prefer sweet chocolate and so I know these are a winner.  In fact I think I am going to have to walk down and buy more of these chocolates before those who didn't get one lynch me! in the office!
I'd pair these with warm mulled wine – the slightly bitter and heavily spiced flavour of the wine for me will balance the chocolates perfectly.