November 18, 2011
Dick Taylor Ecuador Dark Chocolate Bar Review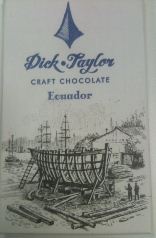 In Arcata California is a small "craft chocolate" maker using organic beans, organic cane sugar and some of the most beautiful bar moulds I have ever seen.  Dick Taylor is a name many of you might not be familiar with but you will hopefully be clicking through on the link and buying a bundle of 3 bars after reading this review.
Artisan, or craft, chocolate making is getting more popular and this is absolutely something to be celebrated.  Microbatch chocolate can often be much better than traditional chocolate makers and so with the likes of Soma and Askinosie and Pierre Marcolini travelling to the farms and working with farmers and small distributors to create their chocolate, we are starting to see just what all the fuss is about.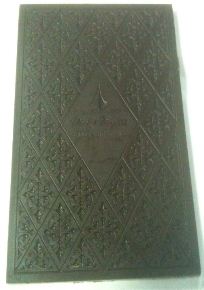 This particular bar is beautiful.  I love the wrapper and the thick foil ensures that you are able to break a piece without ruining any chance or wrapping the leftovers back up.  The thick paper of the wrapper with its printed image looking like an old woodcutting of shipbuilding proudly emblazoned with the Dick Taylor name is just gorgeous. I love this packaging but what of the bar itself…
The first thing you notice is the smell of dried red fruit and deep earthy chocolate.  That scent, so reminiscent of the cocoa nibs I have eaten stays with you as you take a piece and it explodes in your mouth. The bar melts well, without being too soft. As you feel it melt, it releases a combination of woodiness I relate to the nibs, a red fruit flavour and a deep fudgy chocolate flavour.  The reason it reminds me so much of the nibs is that it has kept so closely true to the bean itself you're getting a lot of what the bean has to offer.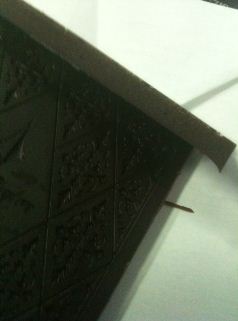 As the chocolate develops in your mouth, you'll notice a lack of much acidity.  This bar has less acidity than I'm  used to but still has that red fruit flavour.  As you work through it, you can almost taste the nibs themselves, freshly broken out of their shells. The chocolate lingers after the left but as it dissipates it leaves that red fruit behind so the chocolate fades leaving you feeling as though you've had some dried cherries and raisins.
All in all an absolutely beautiful bar and now is the perfect time to try them out by ordering yourself some by mail order.  This is most certainly a bar I'll be keeping for myself 😉