November 19, 2011
Green & Blacks Tasting Collection Chocolate Box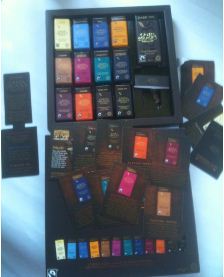 There's something about receiving a big box of chocolate that fills me with joy.  Perhaps it is the weight – knowing I can share without worry as there will still be plenty for me.  Perhaps it is knowing the quality – I know it'll always be yummy.  Perhaps it is just the joy of getting chocolate. Whatever it is, I was tickled pink to get these chocolates from the folks at Green & Blacks.
This was actually a really interesting box to get and I found myself really getting in to all elements of it.  There isn't just chocolate in here – there's chocolate, a map, tasting notes, recipes, information and 'travel tips' as you move around the world tasting and experiencing some of the 25 bars of chocolate in this box.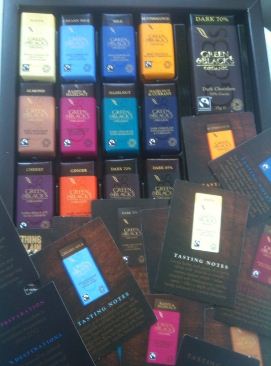 This is a really innovative way of presenting the miniatures.  This really is a world away from a thin box of miniatures and takes these away from being just another box of chocolates into something more – it's an educational experience you can use to teach children more about where their food comes from, learn all about chocolate yourself and make interesting recipes.
I have to admit the disclaimer on the back of the first card seemed like a joke at first.  It was just so ridiculous "You will be fully responsible for your own acts and omission arising out of your use of the recipes enclosed in this pack." Yet this disclaimer went on in a serious vein, making me wonder if it was tongue-in-cheek or not.  Whatever it is, the rest of the pack of cards was interesting as was the last card in the pack.  The final card showed Mayan Gold, Espresso, Mint and Caramel flavours with a note that the reason they were not included was due to consistency (caramel I assume) or strong flavour (the others).  Smart move by Green & Blacks, advertising the other flavours while explaining the practical reasons they were not included.
With 12 flavours, 25 bars, tasting notes, recipes, interesting facts and more, this is actually a fascinating gift.  It is more than just chocolate – it is a journey of discovery that lasts well beyond the life of the chocolate in the box.