November 20, 2011
Green & Blacks Conversations Chocolate Box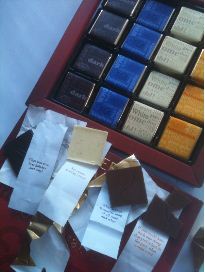 "Are exams getting easier?" "What was your best holiday and why?" "What is your favourite song of all time – and WHY?" "If you could have one thing back from your past that you've lost, what would it be?" These are the kinds of questions that might inspire interesting dinner conversation. They are also the kind of questions you don't really expect to find on the back of a chocolate wrapper and yet as I tucked into a box of "Conversations" chocolates I had been sent by Green & Blacks, these were the exact questions I was confronted with.
I really enjoy Green & Blacks chocolate as a readily accessible chocolate that is available on the high street and comes from humble beginnings.  There is a lot of controversy around it right now, not the least of which is the quality issue following its acquisition by Cadbury's before they were acquired by Kraft, as well as Kraft's representative asserting how the size of G&B meant the investment in the company would be minimal, if at all.  That kerfuffle aside, Green & Blacks keeps moving forward and creating new innovative gifts for the holidays.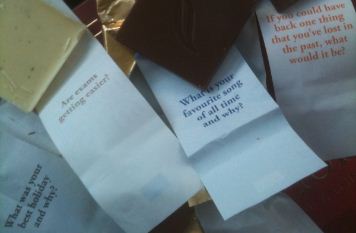 When I had first heard of this box, I had no idea what to expect. In my mind, I had images of chocolate with messages printed on it, I thought of After Eight-style chocolate thins in paper envelopes with an additional card with the question or conversation-starter on it.  I truly had no idea what to expect so as soon as the box arrived, I was into it, checking it out and stuffing my face with chocolate. Luckily I remembered to take the picture before I ate the chocolate.
This box has something for everyone – a bit of butterscotch chocolate, a bit of milk chocolate, a bit of dark chocolate and a bit of white chocolate.  Each of the wrappers is printed with a conversation starter which I think will have everyone talking and I'd gamble that you'd not get through them all at a dinner party.
The really innovative nature of this box of Green & Blacks chocolate makes it the perfect dinner party gift.  It has something for every taste from very light, through sweet to dark and has those really thought-provoking questions. It'll be a guaranteed hit at a dinner party!