November 21, 2011
Green & Blacks New Burnt Toffee Dark and Crisp Cereal Milk Chocolate Bars [CLOSED]
I happened to get these bark from the folks working with Green and Blacks who also provided extra ones for me to give away.  I had heard about the Burnt Toffee but the rice crispies one was new to me but I hadn't gotten the chance to try either yet.
There's a lot of controversy around G&B but I still enjoy their chocolate.  I think my favourite remains the Almond Bar but I'm open to try new flavours so why not these?  Of my foodie friends who are not chocolate specialists, most choose Green and Blacks. G&B have worked hard to increase their profile in recent years with a tea and chocolate pairing, the search for a new taste assistant and two new flavours – YUM!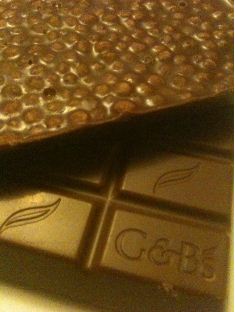 The milk with rice crispies was lovely.  I have a bit of a sweet tooth going right now and ate a substantial number of squares of this before writing this review.  The milk chocolate was slightly less ready to melt than I'm used to in a milk chocolate but still sweet. I enjoyed the rice crispies though but I don't think it'll be replacing my fav.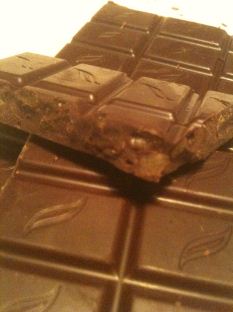 The dark chocolate with burnt toffee was not immediately my favourite. I found the dark chocolate a bit hard but the burnt toffee was delicious.  I love that stuff! I ate a bit more, and a bit more and I'm still not sure. I don't think it would work in milk so it has to be dark but a dark which melted more readily might be nicer but you know, I like the burnt toffee.
These two new bars are great additions to the Green & Blacks like.  I'm positive that they are going to become a staple part of peoples shopping baskets.  If you like rice crispies and chocolate or crumbly burnt toffee then you're going to love these bars.
I have one of each of these bars to give away! If you'd like to win one, comment on any post on this blog (comment must be more than 10 words and relevant) or just tweet "I'm going for something new with @mostlyaboutchoc and you can too at http://bit.ly/uYZTOk" and I'll choose a winner on Thursday by first selecting comment or twitter using random.org and then using that to choose the winner.  Good luck everyone!
Lora McGinlay has WON!