November 21, 2011
Demarquette Festive Caramel Review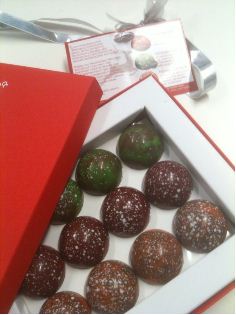 With 38% milk chocolate covering a caramel it is hard to know what to expect from these Demarquette festive caramels.  I'm so used to dark chocolate that these threw me for a little bit of a loop expectation-wise but a good loop!
The flavours are based on traditional recipes, the card says that they are selecting only the freshest festive spices and ripe winter fruit.  They also use British sugar and cream from Jersey herds in Cornwall so you know you're getting a mostly locally sourced Great British Chocolate.
I think that the pleasure is in the eating and I can only describe what I experienced but really you have to experience these for yourself and decide if you find them as yummy as I did.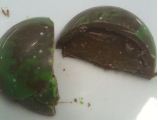 Spiced Apple – This must be what apple pie is like in heaven. Delicate spiced caramel with a delectable tang of apple.  Slightly less liquid than usual caramels, these are lime the warm mushy bit of an apple pie. OMG heaven!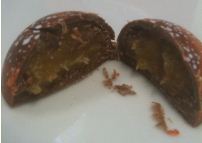 Mixed Citrus – chocolate covered orange was the first thing I thought of.  Then I remembered mandarin oranges in the toe of my stocking and eating a bit of that and a bit of chocolate.  That is what this caramel reminded me of with its sharp citrus and zest.  Citrus without being overpowering.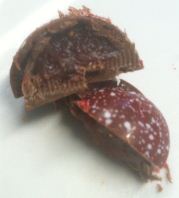 Cranberry – a difficult to capture flavour but here it gets a regal treatment. With bits of cranberry left in so you know you're eating the real thing, this captures the flavour of cranberry without being too bitter.
All in all a delicious collection of festive treats.  They were yummy and I would definitely buy them though I think I'd get extra spiced apple 😉