Tag Archives:
Bluebasil Brownies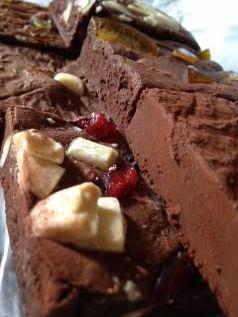 I'm very lucky to have been contacted by BlueBasil Brownies and invited to review their Christmas selection again. They have added a few new flavours but as always they are extremely delicious. The brownies from BlueBasil are made with local ingredients. ...
Comments Off

on BlueBasil Holiday Selection Reviewed Anew
It was a frosty day when I went to BlueBasil Brownies. The whole world had been turned a beautiful pristine white. It was like something off a Christmas card. The whole world was covered in a beautiful frost. The farm ...
I really love Bluebasil brownies – they source a lot of ingredients locally here in Oxfordshire and they are as low impact as I think they can possibly be choosing brown card, not white (less chemicals) paper wrapping and packaging ...
Comments Off

on Bluebasil Christmas Brownie Selection
I received 5 different flavours of brownies from BlueBasil after they won gold at the Good Taste Awards.  Two of the 5 I had tried before – a Chockwork Orange & the classic.  I wanted to re-review a Chockwork Orange ...
I love my local brownie maker – BlueBasil brownies.  Not only do they use local ingredients from local farms, they use Divine chocolate.  I have bought them for myself and I have shared with others.  I think most of my ...