August 30, 2011
BlueBasil Brownies From The Collection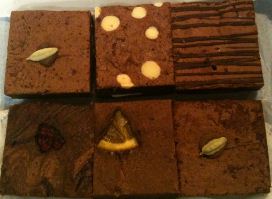 I love my local brownie maker – BlueBasil brownies.  Not only do they use local ingredients from local farms, they use Divine chocolate.  I have bought them for myself and I have shared with others.  I think most of my gifts this holiday season will be BlueBasil brownies.  I highly recommend them not just for their ethical standpoint and commitment to using local ingredients – and letting you know what local ingredients they have used – but also because they are genuinely lovely local people who make genuinely lovely brownies.
I have reviewed two already from the collection.  For the last three, I had lost the card so I can only guess at their names and give you a description so apologies if I am slightly wrong on names.  What I do know is that they are damn yummy and worthy of royalty! They were so yummy I scoffed the lot!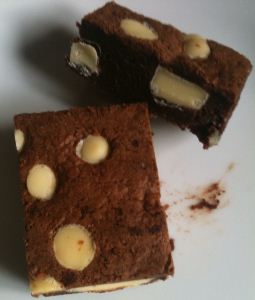 Chunky White Chocolate – Oh heaven – and this from someone who doesn't like white chocolate! This densely chocolaty brownie is the perfect home for the chunks of white chocolate nestled in the lovely fudgy interior and popping up like white buttons on the top of the brownie.  Delicious!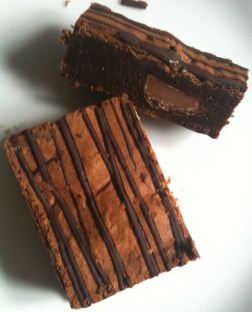 Classic Chocolate Chunk – I have loved this brownie for a long time.  I am in love with this brownie.  I cannot imagine anything that would be nicer than sending my loved ones a box of 6 of these brownies.  I can imagine I'd be in their good books forever if I did as well.  These densely fudgy chocolaty brownies with chunks of chocolate through them and a drizzle of chocolate on top absolutely make my day.  I cut a piece off, eat a bit and am satisfied – just as you are with quality.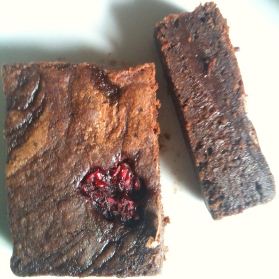 Summerberry – WOW! Now this is something special. Each piece I cut off has a bit of this berry compote in it, it seems.  Somewhere inside each bit I take there is some lovely berry flavour.  Combine a dense chocolaty brownie and some lovely summer berry sauce and you have an absolute winner.
I just loved these brownies and I wish I could justify buying them all the time.  For the moment I'll simply have to wait for the holidays, accidentally over-order and scoff the lot!