August 30, 2011
Leila Brandao Chocolates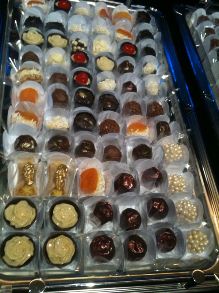 I won a ticket to London Food Bloggers and part of the attendance was being delighted with some of the most wonderful chocolate delights. Well, they actually aren't traditional chocolate but Brigadeiro.  Apparently Brigadeiro is famous in Brazil and a lovely delicacy.
About Brigadeiro Wikipedia says "is a simple Brazilian chocolate bonbon, created in the 1940s and named after Brigadier Eduardo Gomes… The candy is made by mixing sweetened condensed milk, butter and cocoa powder together. The mixture is then heated in a pan on the stove or in a microwave oven to obtain a smooth, sticky texture. It usually rolled into balls which are covered in granulated chocolate"
Leila told me that when making her chocolates, she used mostly Callebaut chocolate, a little Cacao Barry and sometimes Valrhona chocolate.  She brought her chocolates to us personally and chose some for me.  I didn't have a knife to cut these open and I had to photograph them after rescuing them so they aren't the best images but hey – they were interesting!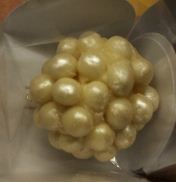 White chocolate brigadeiro– very interesting – white chocolate crisp balls with a brigadeiro centre. Centre is chunky -not smooth- white chocolate crisp ball – sweet, not too vanilla-y, very buttery.  Interestingly different take on a truffle-shaped chocolate.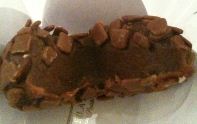 Milk chocolate ball– sticky & sweet – chocolate is non-distinct. Soft, easily edible probably a favourite of those with a sweet tooth. Best with coffee I think – a nice cup or a double shot of espresso.  This is a bit much for me but a lot of people are going to eat these like candy!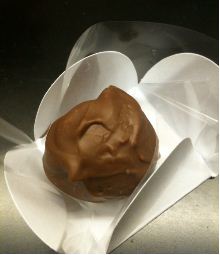 Valrhona truffle-hard shell – ganache centre. Pretty standard – light & clean finish, sweet but not too sticky. Thick chocolate shell combined with well-made ganache means it is delicious and as the day progressed I noticed these were specifically chosen and eaten – over the champagne truffles even!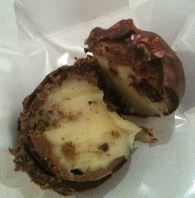 Champagne truffle– made with real champagne – dark & milk shell, white interior – wet ganache – the real champagne has made the ganache loose which is probably why there is a wet filling. Strong flavour I find it difficult to believe is just champagne & not marc de champagne.  Still – how can you argue with a champagne truffle – yummy!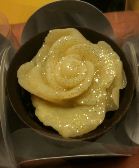 Rose-smooth dark ganache let down by poor quality premade dark chocolate cup. Dark chocolate ganache is a smooth, clean finish and delicious. Rose is an interesting addition – I understand it is typical brigadeiro and made by hand. Strange aftertaste from Callebaut chocolate but really beautiful and innovative chocolates.
All in all I am entranced by the beauty of these chocolates and am so glad I got the chance to try them and chat to the owner.  I wish I had an event I could order them for like a wedding or special party because they were so beautifully presented and created they'd be a huge hit!