August 29, 2011
Chocolate Chip Brioche from Aldi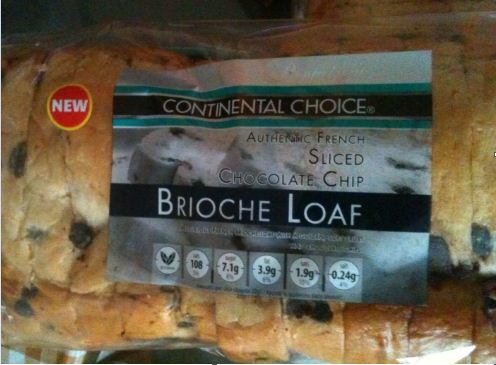 There's something special about brioche bread.  I'm not sure if it is because it is slightly sweet or the richness of it or what but brioche, when made well, is lovely.  I was send some loaves of this bread and took them with me to a cocktail and cake evening, figuring they were close to cake.
This brioche was pre-sliced which was both good and bad.  Good because it meant it was impossible to take the kind of huge pieces I wanted to.  Bad because I could not take the kind of huge pieces I wanted to 🙂
There are a lot of chocolate chips in here and this loaf is the size of a normal loaf of bread. Each piece is like a slice of bread only it is filled with tons of chocolate bits.  Each chocolaty bite is delicious.  I didn't try it toasted though I wanted to and I didn't add anything to it as each slice is perfect on its own.
Aldi makes some amazing food and this brioche loaf with chocolate chips is just one of dozens of delicious products.  It really is time to take another look at Aldi.