August 29, 2011
Charbonnel et Walker Vintage Collection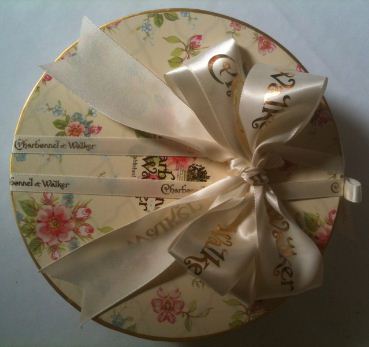 This box of chocolates has to be one of the most beautiful things I've ever received.  I was absolutely enamoured by these when I got them.  I had a hard time opening them.  I could hardly bring myself to until I discovered the secret to opening them and not spoiling the ribbon.  I love this packaging – absolutely love it.  I'm besotted with the outside.
I can imagine what it would have been like in 1959 when this range was first produced.  These gorgeous chocolates could have been ordered pre-theatre or pre-opera and delivered to be waiting when they arrived.  I can imagine the build up to a special evening starting with a visit to the Charbonnel et Walker shop.  A careful and considered  selection of chocolates would be decided upon before continuing shopping.  Getting ready, the sure knowledge of the chocolate treat that would be waiting would heighten the pleasure.  Selecting the right dress to go with the chocolates selected, preparing everything, a trip to the opera or theatre suddenly has an added element.  A glass of champagne on arrival and the anticipation builds.  As you are seated, the chocolates arrive.  A beautiful floral box, the most beautiful box sealed with ribbon arrives and opening it there is a perfect selection of chocolates.
When I opened the box, I chose a rose cream with its sweet taste and strongly flavoured rose cream, I wondered what the woman in 1959 who had that same box would have chosen.  I wondered if she would have chosen a milk crown, a brazil, a caramel chocolate or a rose or violet cream as I had.  Would she choose her favourite first or would she save her favourite until last?  Would she share with anyone?  Would she preserve the ribbon as I had? Would she preserve the box as I had?   What would she have thought of the selection and how often would she treat herself.
This box is the height of luxury.  As I opened it I was transported back to when going to the theatre or opera was a glamorous affair and people took time to prepare.  I imagined myself a rich heiress with friends who shopped with me by day, threw charity balls by night.  I selected a chocolate carefully and wondered about how a gentile lady would tackle the larger ones – would she bite a small amount or be forced to pop a whole one in her mouth. I bit my rose cream in half and enjoyed its sweetness.  I wondered if she would have closed the box or left it open. I wondered how long she would spend choosing the next flavour.  Luxury, decadence and opulence – that is what this box represents.

I can't keep these to myself.  I have a 500g box of these chocolates in this beautiful  oval box.  They are worth £40 and with such expensive luxury I could not keep them to myself.  To be in with a chance of winning this lovely box of chocolates, simply subscribe to our daily email updates and answer to the following question in the entry form below.
(Ya, I know the form template is too big and looks awful – I'll need to edit that sometime :-D)
Winner is Joel Matthews! He was number 466 selected 6th by Random.org after winners 1 – 5 were not subscribed to the blog which disqualified them.

Rules
To enter, you must be a verified subscribed to our email updates service and use the same email address in the entry form above. You can unsubscribe afterward if you like, but you must have a confirmed subscription to the list on the competition closing date for your entry to be counted.
One entry per person only.
The competition closes on Thursday 1st September 2011.
The judges' decision is final.
Rules are subject to change without notice (if we've forgotten something because I'm a bit scattered)
I'll choose 1 lucky winner at random from the right answers by first using random.org to determine the potential winner who will be checked against confirmed subscriptions to the list
Only available to UK mainland addresses.
No cash alternative available.
Your details won't be passed onto anyone else.
I reserve the right to remove entries that I believe aren't human created or are an attempt to gain an unfair advantage such as using different email addresses but are all operated by the same person. I know this sounds harsh but some people are keen enough to created automated entries and we are against automated competition submissions because we're in favour of fairness.