November 22, 2011
Bluebasil Christmas Brownie Selection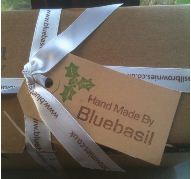 I really love Bluebasil brownies – they source a lot of ingredients locally here in Oxfordshire and they are as low impact as I think they can possibly be choosing brown card, not white (less chemicals) paper wrapping and packaging (I recycle it), and they use Divine chocolate.  All of this would be pointless if their brownies weren't also awesome.
For the holiday season, and to prevent the inevitable arguments between my husband and myself, they sent me a whopping NINE BROWNIES for me to review and only sent me four flavours meaning  had enough coffee and tiramisu to share around.  It also meant I had a lovely dinner for a week 😉
You can get 15% off – just order your brownies before Nov 28th, 2011 and add the following code at checkout: 15XMAS11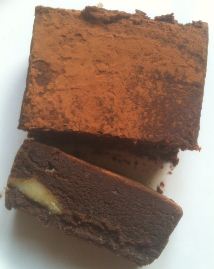 Tiramisu – I loved this lovely brownie.  It had a distinct coffee flavour but I didn't quite get brandy though that is no bad thing. The cocoa dusting on the top is light but doesn't detract at all from the flavour.  The brownie is dense – just the way I like it.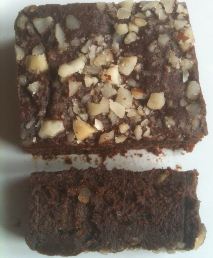 Rudolph Rumnut – there is no way you could possibly ever mistake that is a boozy brownie. Before I bit into the delicious dark chocolate dense brownie goodness, I could absolutely smell the booze.  This is a heavily alcoholic brownie with raisins which I think might be boozy too 🙂  It tastes delicious but as I'm not a huge fan of fruit I left them for hubby 😉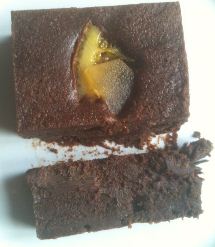 Dark Chocolate and Orange – This deeply delicious chocolate has a seemingly sweeter ginger or something as I got a piece and it wasn't candied but it wasn't harshly hot.  There is a bit of warming sensation to the brownie but overall it is quite gentle and subtle.  It has a piece of orange and ginger on the top of each square which I love.  It meant when husband raided the box he knew which one to pilfer 😉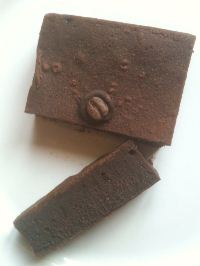 Coffee & Irish Cream – I saved the best for last.  Gently boozy but mainly coffee, this delicious dark chocolate brownie is a dense square of deliciousness.  I love how the coffee isn't too pronounced and not too extreme.  It does build though so as you eat more, you become more aware of the coffee and less aware of the boozy irish cream but it is still there always.  It is a delightful brownie though and one I could eat and eat.
These brownies last around 2 weeks in the fridge… if you can hold off eating them for that long!  I do let mine last because I have so much chocolate in the house 😉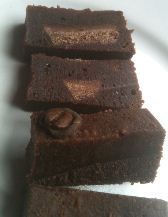 Remember – you can get 15% off brownies for the holidays! Just order your brownies before Nov 28th for delivery by Dec 21st, 2011 and add the following code at checkout: 15XMAS11