August 31, 2011
BlueBasil Gourmet Brownies – Chockwork Orange & Cardamom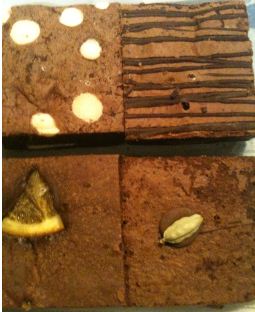 I received 5 different flavours of brownies from BlueBasil after they won gold at the Good Taste Awards.  Two of the 5 I had tried before – a Chockwork Orange & the classic.  I wanted to re-review a Chockwork Orange it here because it was totally different than the one I had before.  I also chose the cardamom brownie to start with.  Hopefully you'll get an idea between these reviews and the previous brownie review of what you'd like to order 😉
I love BlueBasil for a lot of reasons.  They use Divine chocolate, they use local ingredients and bake everything in small batches.  I'll be purchasing more at the holidays for sure both for myself and for relatives.  I love how I can send a whole load of different flavours.  I love the packaging which is all recyclable.  I just love these brownies.
But on to the reviews!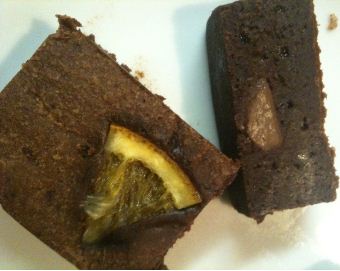 Chocwork Orange – the last time I had this one it was a bit dry but this time as you can see it is not only moist and dense but full of chocolate chunks!  I love this brownie as it is just perfect in thickness and density and it isn't too full of orange.  I'm not a fan of orange but this moist delicious brownie doesn't smack you around the head with it – it is in the background meaning I love it.  Yes, I removed the bit of orange from the top but husband would have eaten it whole.  All in all the lovely moist dense very chocolaty brownie is delicious and I recommend it.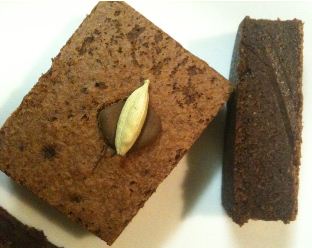 Cardamom – This was a bit scary as it was so strong but really it was quite pleasant.  It seemed strong at first but when I ate it, it wasn't actually that bad. There is bits in it so it absolutely there is cardamom in it but it isn't overwhelming.  The brownie is moist and dense and the flavour of the cardamom, while stronger than the orange, it not overwhelming.  It does come to the fore but it does not overwhelm.
Lovely!