December 23, 2013
BlueBasil Holiday Selection Reviewed Anew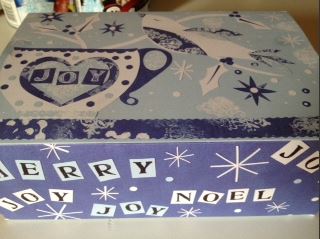 I'm very lucky to have been contacted by BlueBasil Brownies and invited to review their Christmas selection again. They have added a few new flavours but as always they are extremely delicious.
The brownies from BlueBasil are made with local ingredients. They buy lion stamped local eggs, local butter, organic flour and source fair trade baking chocolate. Bluebasil brownies is owned and run by Nikki Taylor, who has over 18 years of experience in the food and hospitality industry. So this isn't someone who just woke up one day and decided to start selling brownies online one day but an experienced professional who was highly qualified. Finding that chocolate brownies were a huge hit with catering customers and requested on dessert buffets time and again, Bluebasil brownies mail order business was born in 2010.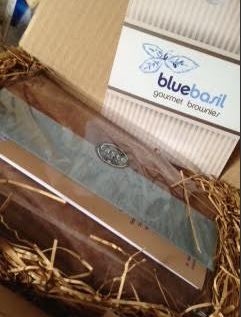 I once said that these were fit for royalty – well apparently Nikki *has* baked for royalty! Good call then 😉 These brownies are delicious. I appreciate the fact that you can also order a variety of flavours. With some other brownie companies you are, regrettably, limited to a single flavour (though in the case of Lallapolosa I have no objection to getting all of one flavour!) but with BlueBasil you can get just one of different flavours or many of one flavour. Go crazy and order a selection!
What to choose… what to choose…? Well, you'll find in my previous reviews that I absolutely love Original Chocolate, Chunky White Chocolate, and Classic Chunky Chocolate. The Rudolph's Rumnut and dark chocolate & Ginger were ones that were great but not my favourites however I know a lot of you reading this will absolutely love them.
The new flavours were Orange & Cointreau, Toasted Almond & Amaretto, and White Chocolate and Cranberry.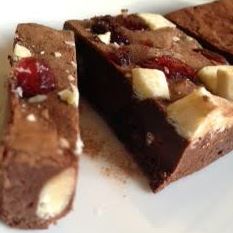 White Chocolate and Cranberry – I managed to take a photo of this before I simply devoured it. I like the contrast of the sweet white chocolate with the tart cranberries and a dark chocolate brownie is the perfect medium for this flavour combination. The cranberries were absolutely perfect in number and don't make the brownie damp (if you know what I mean). The flavour balance is variable of course as you'll get a differing amount of cranberry and white chocolate in each bite but it is delicious.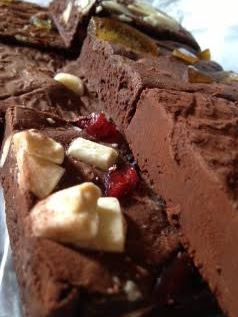 Toasted Almond and Amaretto – You could smell the booze from this one on opening the box. There is so much booze in this recipe it makes a wonderfully moist brownie without it being sticky. The flavour of the chocolate does war slightly with the booze but who cares. It's boozy, it's chocolaty and it has thin slivers of almond which you can remove of you, like me and hubby, aren't massively into nuts. Don't get me wrong – the almonds in this brownie are delicious and the booziness – well, it rivals Rudolph's Rumnut. It is a nutty chocolaty boozy treat and it is deliciously yours to order so go and do it!
Orange & Cointreau – not being the world's biggest orange fan I deferred to husband on this one. At first he just said *yummy* then he expanded on that to say "well, you can definitely taste the Cointreau" and then he just kind of went silent as he continued eating. He kind of went really silent, walked off and ate the rest of the brownie slowly. I could only guess that he was savouring it and since he usually shares and he didn't even offer me a single bite, I think that is a massive endorsement for the deliciousness of this brownie flavour.
So, I miss the Irish Cream and Tiramisu but I am absolutely loving the new flavours (I was able to try). Of course there are a lot of flavours to order from LISTED HERE so give them all a try!