Tag Archives:
assortment
As part of my brownie shipment from Tim at Indulgence Confectionery I got a box of chocolates.  I had originally thought I had 16 different chocolates to review but actually found I had 8 and 8 to share with husband ...
Comments Off

on Protected: Indulgence Confectionery Truffles and Filled Chocolates Selection Box
I was lucky enough to get some of the brand new giftable Lucky's mini cakes - also known as Tiny Pieces of Wonderment - at Chocolate unwrapped.  These little cakes were presented in a mirrored box and are just the ...
I love the look of these chocolates and they are probably the PERFECT gift for someone who likes chocolate and sweets but does not want to be challenged by high quality chocolate.  There are sixteen decorated cupcake chocolates which include ...
Comments Off

on Mini Cupcake Chocolates from Chocolates for Chocoholics
I got these lovely chocolates because it gave me a little bit of everything to try.  The box contained several chocolates all of very different flavours and they seemed almost perfectly chosen for me.  The box was delightful wrapped in ...
Comments Off

on Artisan du Chocolat Tasting box
This lovely tasting box is intended to introduce you to the flavour of different chocolates and help you taste the difference between different kinds of chocolate. Each chocolate square is a different chocolate from Manjari to Abinao each chocolate has a ...
Comments Off

on Valrhona Initiation Grands Crus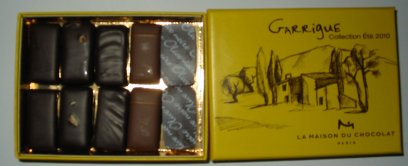 This small box of chocolates which you can pick up for £12 arrived at my home in a giant box.  Delving in to the bubble wrap was fun, but not as much fun as the chocolates themselves were. There were 2 ...
There's a chocolate for every reason in here.  I just found a penny, I had a great hair day, I have a coffee and need a chocolate… any reason you can think of a reason for chocolate, there's a chocolate ...
Comments Off

on Prestat 16 Chocolate Assortment Jewel Box