December 14, 2010
Lucky Bite Sized brownie cakes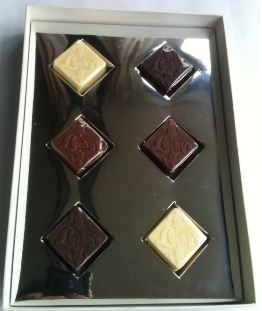 I was lucky enough to get some of the brand new giftable Lucky's mini cakes – also known as Tiny Pieces of Wonderment – at Chocolate unwrapped.  These little cakes were presented in a mirrored box and are just the right size to scoff yourself.
The cakes are the creation of a passion for chocolate and cake and a desire to create something different.  They combine high quality chocolate with cake and are presented as giant versions of some delicious chocolates.
The attention to detail with the creation of bespoke moulds and the invention of the flavours and designs and the whole idea is what makes these unique.   They are beautifully presented and come across as a high quality chocolate gift.  The different types of chocolate used and the different fillings means there is always something someone will like.
These are more of a hostess gift than something to bring and share at a party so if you're looking for a gift this holiday season and the recipient enjoys chocolate, this should be on your list.