May 12, 2010
Artisan du Chocolat Tasting box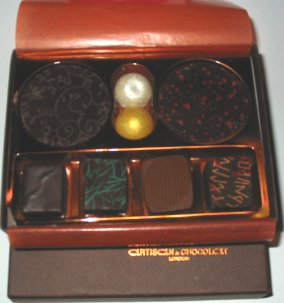 I got these lovely chocolates because it gave me a little bit of everything to try.  The box contained several chocolates all of very different flavours and they seemed almost perfectly chosen for me.  The box was delightful wrapped in a ribbon and the whole experience was one of luxury.
Lumi – Perfumed ganache made with Iranian sun dried limes. The stencil of runic characters delighted me slightly more than the filling did.  It was very subtle and was the first I had tried because I suspected it would be difficult to taste. The flavour is there but it is subtle and difficult to find.
Jasmine Tea – another of the delicate ones in the box, I chose this second. It was much more strongly flavoured with the floral jasmine in the tea coming through quite strongly as it apparently has 5 times its weight in jasmine flowers. The ganache had a slightly grainy feel to it though which was a bit odd.
O Caramel – a flat round disk filled with caramel. The chocolate is delightful and the thin caramel filling just a bit tangy. Yummy enough to want to eat a whole box!
O Lychee & Rose – a flat round dark chocolate with a delightful filling but there just wasn't enough filling to get the full effect I'm sure.  The filling was delightful and slightly floral but sweet with as delicate sour edge.
Moroccan Mint – I love the flavour of the fresh green mint in this delightful chocolate. It has such a different flavour from other mints it makes it a fun delight.
A South Sea gold pearl and a Tahitian pearl choc – these are cool coloured chocolates in a glistening coating. Brilliant concept and the chocolate is different in each and each is delightful in its own way. Pretty plain and the white chocolate isn't overwhelming so a delightful treat.
Ginger – this chocolate was far too strong for me but for ginger lovers it'll be a delight.