Featured Article
These cupcakes have a surprise inside – a lovely melted chunk of chocolate. They are best eaten warm otherwise the middle is just a single large chocolate chip 😉 which is no bad thing 🙂 These are some of the most yummy cupcakes I've tried. This reci ...

These amazing brownies are some I freestyled one day and they came out brilliantly perfectly. Deeply fudgy and absolutely perfect when made with quality chocolate like Original Beans Wild Beni chocolate. Makes 25 brownies (ish) Ingredients: 250g uns ...

If you, like my husband and I, are a lover of Häagen-Dazs coffee ice cream and have been waiting for it to come to the UK for years, the time has finally come to rejoice! To celebrate this amazing launch there is only one way to make it even better ...
Slider by IWEBIX
Latest Post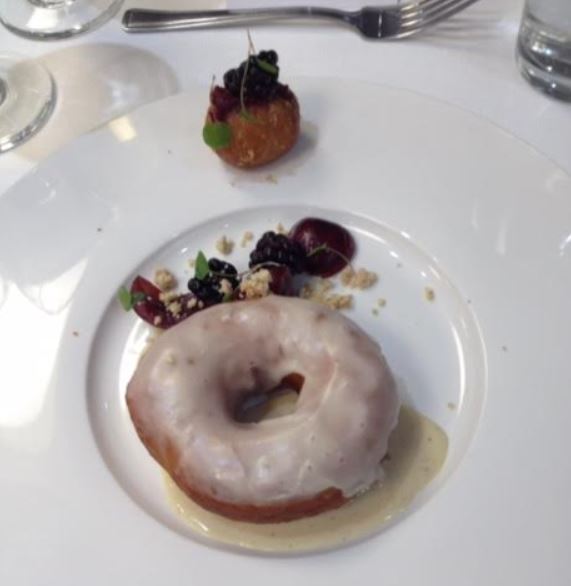 OMG these were amazing. I was at the Canadian High Commission in London for dinner celebrating Quebec maple syrup and some amazing Canadian wines were served with the amazing dishes – all of which included maple but these doughnuts finished off the amazing meal and I had to get the recipe!
For the Doughnut:
350g/12oz plain flour, plus extra for dusting
40g/1½oz caster sugar
2 tsp fine sea salt
20g/¾oz fresh yeast or 10g/¼oz fast-action dried yeast
140ml/4½fl oz whole full-fat milk, slightly warmed
5 large egg yolks
90g/3¼oz unsalted butter, cut into cubes, softened,
groundnut or vegetable oil, for deep-frying
For the Blackberry filling:
750g/1lb 10oz Blackberry
225g/8oz caster sugar
25g/1oz unsalted butter
For the maple glaze:
4 tsp maple syrup
100g/3½oz icing sugar, sifted
For the vanilla crème Anglaise:
250ml/9fl oz double cream
½ vanilla pod, split in half lengthways and seeds scraped out
65g/2½oz caster sugar
3 large egg yolks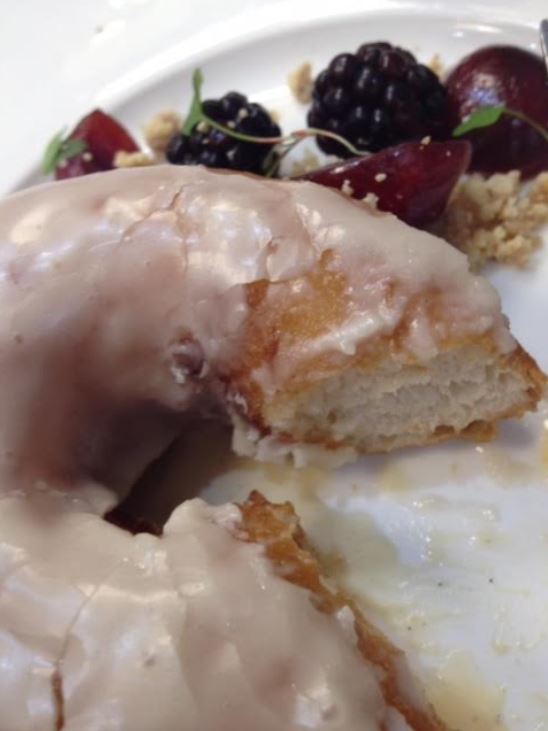 Method:
For the doughnuts, put the flour, sugar and salt in the bowl of an electric mixer fitted with a dough hook (if using dried yeast, add it to the bowl now). Stir to mix, then make a well in the middle.
In a small bowl, stir the fresh yeast with a little milk until creamy, then set aside for a few minutes until foamy. Add to the well in the flour along with the egg yolks and remaining milk. Mix on low speed to combine, then increase the speed slightly and continue to mix until a dough forms.
Reduce the speed a little before adding the butter, a little at a time, and continue mixing until it is fully incorporated. If the dough seems too wet, mix in a little more flour, a tablespoonful at a time. Increase the speed and knead the dough for a couple of minutes until it is smooth and elastic. Cover the bowl with cling film and leave the dough to rise in a warm spot for 1-2 hours or until doubled in size.
Cook blackberries over low heat, stirring occasionally, for about 20 minutes or until the apples are very soft. If there seems to be too much liquid, continue to cook over a low heat until the mixture has thickened. Transfer the blackberries to a food processor and blend until smooth, stopping the machine to scrape down the sides once or twice. Pass the purée through a sieve into a bowl and leave to cool completely, then spoon into a plastic squeezy bottle with a long tip (or a piping bag fitted with a long, thin nozzle). Set aside.
Knock back the risen dough and lightly knead it on a floured surface. Roll out the dough to a 1cm/½in thick square or rectangular shape. Line two baking sheets with baking parchment. Put the dough on one of the baking sheets and chill in the freezer for about 30 minutes or until the dough is semi-frozen (this will make it easier to cut).
Using a sharp knife, cut the dough into 4cm/1½in squares. Arrange them, spaced slightly apart, on the lined baking sheets. Cover with lightly greased cling film and leave in a warm spot for about an hour or until the dough is one-and-a-half times the original size.
Meanwhile make the maple glaze, combine the ingredients in a bowl with a tablespoon water and whisk until smooth. If the glaze seems too thick, add a little more water, a tiny splash at a time, and stir well until you get the desired consistency.
For the crème Anglaise, heat the cream with the vanilla seeds and pod in a saucepan until it begins to boil. Remove from the heat and let the vanilla infuse the cream as it cools. Meanwhile, beat the sugar and egg yolks together in a large bowl. When the vanilla cream has cooled, fish out the pod, then mix the cream with the sugary yolks. Pour the mixture through a fine sieve into a clean saucepan. Set over a low heat and cook, stirring constantly with a wooden spoon, until the mixture thickens into a thin custard that will lightly coat the back of the spoon.
Heat 4-5cm/1½-2in of oil in a deep heavy-bottomed pan, or a deep-fat fryer, to 170C. Deep-fry the doughnuts, in small batches, for about 2 minutes or until golden-brown all over. Remove with a slotted spoon and drain on a tray lined with several layers of kitchen paper. While the doughnuts are still warm, pipe the apple filling into the centre of each, then roll in the cinnamon sugar.
Once all the doughnuts have been deep­ fried, filled and sugared, glaze them in several batches. Place a few in a single layer on a wire rack set over a large baking tray. Drizzle the maple glaze over them and leave to set slightly before transferring them to a serving plate. Serve warm or at room temperature with the vanilla crème Anglaise.