Featured Article
These cupcakes have a surprise inside – a lovely melted chunk of chocolate. They are best eaten warm otherwise the middle is just a single large chocolate chip 😉 which is no bad thing 🙂 These are some of the most yummy cupcakes I've tried. This reci ...

These amazing brownies are some I freestyled one day and they came out brilliantly perfectly. Deeply fudgy and absolutely perfect when made with quality chocolate like Original Beans Wild Beni chocolate. Makes 25 brownies (ish) Ingredients: 250g uns ...

If you, like my husband and I, are a lover of Häagen-Dazs coffee ice cream and have been waiting for it to come to the UK for years, the time has finally come to rejoice! To celebrate this amazing launch there is only one way to make it even better ...
Slider by IWEBIX
Latest Post
Chocolate and cinnamon pancake crepes for the North Americans among you who love cinnamon everything, filled with fresh Ontario blueberries with vanilla cream, drizzled with warm blueberry jam and melted Soma chocolate.
Ingredients:
Crepe-style Pancake batter:
105g plain flour
1 tsp ground cinnamon
2 tsp Green & Blacks cocoa powder
2 medium eggs
175ml whole milk mixed with 100ml water
50g unsalted butter – melted
Crepe/Pancake Filling and Topping:
250ml whipping cream
2 tsp vanilla paste (I use Neilsen Massey)
Melted dark Soma chocolate
Fresh blueberries
Maple syrup for deliciousness
Icing sugar to dust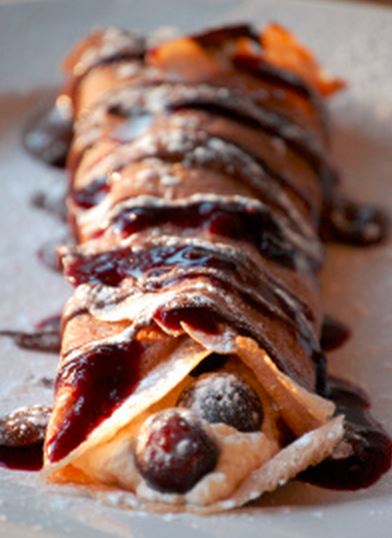 Method:
1. In one bowl, sift the dry ingredients of the crepe batter mix together.
2. Whisk the two eggs into the dry ingredients.
3. Slowly add the milk and water mixture to the mix whilst beating (I use a hand blender). If using a lower fat milk, adjust the water down and increase milk – overall you end up with 275ml liquid
4. Add in 2 tbsp of the melted butter and keep the rest for the frying pan. Mix well.
5. Put batter in the fridge for 15 – 20min and to allow it to thicken a bit.
6. Blend whipping cream and vanilla paste in a large mixing bowl until the cream has thickened. Keep chilled.
7. Slowly melt a 70% Soma chocolate such as Madagascar in a small bowl over simmering water (bain marie). Bowl should not touch water.
8. Heat up your frying pan, dab a bit of scrunched up kitchen paper in the remaining melted butter and rub onto the frying pan to keep crepe from sticking.
9. Ladle a full small ladle of batter into the pan (or three tablespoons).  Move the pan in circular motions to spread the batter around.
10. After about 2 mins, use two palate knives to flip the pancake to cook for another two mins on the other side. Should be light brown. If it is to dark, turn down heat slightly or reduce cooking time.
11. Place on plate and repeat, separating each pancake with baking parchment if possible (they should not stick but heat makes steam and it could cause sticking)
12. To assemble, place single crepe/pancake on a plate, Pipe a thick line of cream down the middle of the pancake (or just spread a thick mound), then top with fresh Ontario blueberries and a bit of maple syrup, wrap over both sides and drizzle top with warm blueberry jam (warm in microwave to make it easier to spread) and melted chocolate. If you wish, dust with icing sugar but serve straight away!