Featured Article
So it's the holidays and back when I was younger I used to make my gifts. I remember one Christmas when the boiler went out before the holidays I baked to stay warm until the repairman could come. I baked masses of shortbread but I also made tr ...
Slider by IWEBIX
Latest Post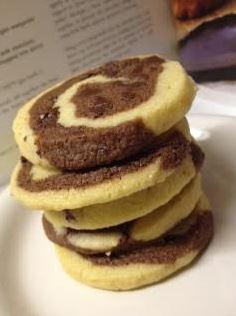 I love chocolate and I love shortbread so when I visited Chef Patrice's kitchen and saw the swirls, I knew I wanted to make my own. Scouring my recipe books, I found a recipe in my Green & Blacks cookbook which I modified slightly. I've lost the images so I'll just have to make them again! But for now here is what I did…
Ingredients:
Plain Shortbread:
150g plain flour
½ tsp salt
50g caster sugar
125g unsalted butter at room temperature
Chocolate Shortbread:
125g plain flour
25g cocoa powder
½ tsp salt
50g caster sugar
125g unsalted butter at room temperature
100g dark chocolate (I used left over Amedei)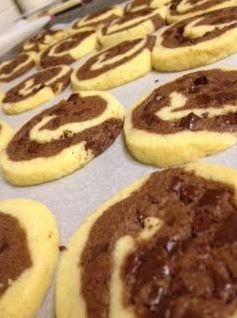 Instructions:
Preheat the oven to 150C or if you have a fan oven like me set it to 140C
This is complex as we're making 2 dough mixes and combining them.
For the plain shortbread, sift together the salt, flour and sugar. I put half the flour in the sieve, add the salt then add the rest of the flour then the sugar.
Next rub the butter into the flour. This is messy work but satisfying. The heat of your hands melts the butter and mixes it with the flour.
Once blended, place the ball of dough in the fridge for 30 min.
For the chocolate, do the same only combine the cocoa powder in with the flour as well. It is extremely important to sift the cocoa powder in with the flour at this stage.
Chop the chocolate while waiting for the dough to chill. It should be chopped small, not finely but not too coarsely as it needs to be sprinkled in the centre of the roll we'll make.
Roll out both dough balls into rectangular shapes of roughly the same size. We're going to make a swiss roll.
Place the plain rectangle on some greaseproof paper. Place the chocolate layer on top. Scatter the large chunks of the chocolate 1″ from the inside of the roll in a line to make the centre chocolaty then scatter the rest of the chocolate all over the surface of the chocolate layer.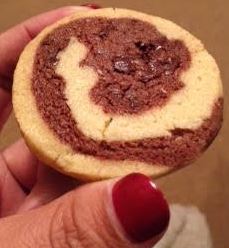 Now, carefully roll the rectangles together, along the long edge, using the greaseproof paper to help in creating the roll tightly.
Once a roll, keep rolling down if the circles are too big, otherwise slice cookies around 1cm thick but no larger than 2cm or they won't bake.
Bake for 25min on baking parchment and let cool before eating or you'll burn your tongue on the melted chocolate!