November 18, 2015
#Winning is THREE Hotel Chocolat Advent Calendars up for Grabs!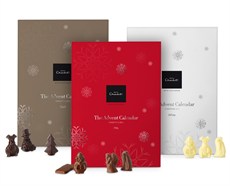 That's right – the competitions are back baby YEAH! We've had THREE great Advent calendars donated by Hotel Chocolat which you can enter to WIN!
Don't want to wait? Do you just want one now? Pop over to their special Advent calendar page HERE and grab yourself one in white, milk or dark chocolate. Perhaps you subscribe to my assertion that Advent calendars are really covering a SINGLE DAY because a day has 24 hours and an advent calendar has 24 chocolates. Coincidence? I think not!
I'm giving one away on Facebook, one here and one on Twitter! All you have to do to win on Facebook is to just share the status update here: https://www.facebook.com/MostlyAboutChocolate/posts/1057212574323274 and then update Rafflecoptor so we can collect your email address so if you win I can get a hold of you.
All you have to do to win one here is leave a comment of more than 10 words about why you love Advent calendars. For example, I love advent calendars because they not only provide one chocolate a day but if you buy a case, you could have 24 days of 24h of chocolates – one chocolate for each hour and one calendar for each day!
All you have to do on Twitter is follow me and Hotel Chocolat and tweet the following message: I've just entered to win one of three Advent calendars from @hotelchocolat with @mostlyaboutchoc here: http://bit.ly/1S3vQ8v
And that's it! I'm using Rafflecoptor so I can collect your email and I will check you did share or tweet or leave the right kind of comment.
Of course as with all things, there are rules and I do have to have some as some people have tried to cheat in the past.
The rules:
1.The competition will finish as per Rafflecoptor widget on Tuesday 24th November 2015 so you get your calendar before December 1st
2.The selection of winner will be selected by Rafflecopter and verified by hand to ensure entry complies.
3.Only available to UK addresses – non-mainland ones may not get the calendar on time because: distance
4.No cash alternative available.
5.I reserve the right to exclude entries that I feel are inappropriate (for example, change the tweet, share to locked account I cannot verify or do not leave the minimum 10 words) or are not in the spirit of the competition.
6.Your details will be passed on to Hotel Chocolat so that they can send you the Advent calendars. I always get their catalogues so you might after winning too.
7.I reserve the right to remove entries that I believe aren't human created or are an attempt to gain an unfair advantage such as automated entries.
8.You do not need to complete all three actions to enter but you must use the widget and leave your email so I can contact you if you win.
9.You must be available to respond to my email by no later than 2pm GMT on Wednesday November 25th so you can get your calendar in time otherwise a new winner will be chosen at that point.