December 1, 2015
La Maison du Chocolat Christmas 2015 Is Beautifully Delicious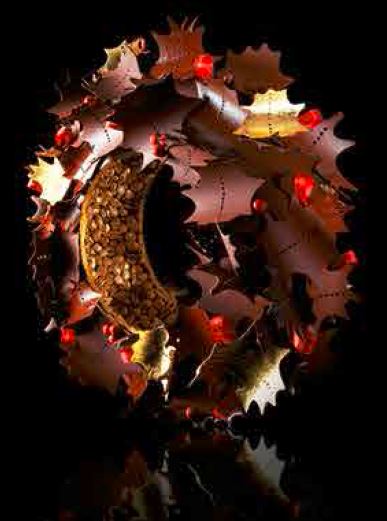 I was stunned when I saw it. It was magnificently beautiful and it took my breath away. I cannot imagine eating it and yet that is exactly what you should do with it. The Wreath of Wonder. It's one of my favourite symbols – Holly, which is an enduring symbol of Christmas, vibrant, shiny and sharp-edged. This amazing symbol stars in this year's Maison du Chocolat Christmas Collection to shed new light on a treasured holiday tradition.
Nicolas Cloiseau, Master Chef of La Maison du Chocolat, boldly uses the lightness in his laurels of entwined holly leaves, accented in gold, as a swirling metaphor for a chocolate wonderland. An anthology of ephemeral art and a toast to fine craftsmanship, the Wreath of Wonder of Nicolas Cloiseau underscores the savoir-faire of chocolate, and will be a must-have for holiday festivities.
However, and perhaps possibly a bit sadly, the Wreath of Wonder is a limited edition, made entirely by hand – Available in Maison du Chocolat boutiques only but weighs in at 5 kg being a massive 50cm in diameter.
But not all of us can have the dream and so, as with all other years, they have created a more affordable, less extravagant version of the wreath in their Christmas Wreath Ornament. These cute mini wreaths are decorated with a single holly leaf and look much more robust as well as being significantly smaller. At 94g they are an inexpensive £24 and exactly what I'd go for 🙂
But no Maison du Chocolat Christmas would be complete without a Christmas collection of chocolates! And this year is no exception with lovely chocolate creations especially for the season.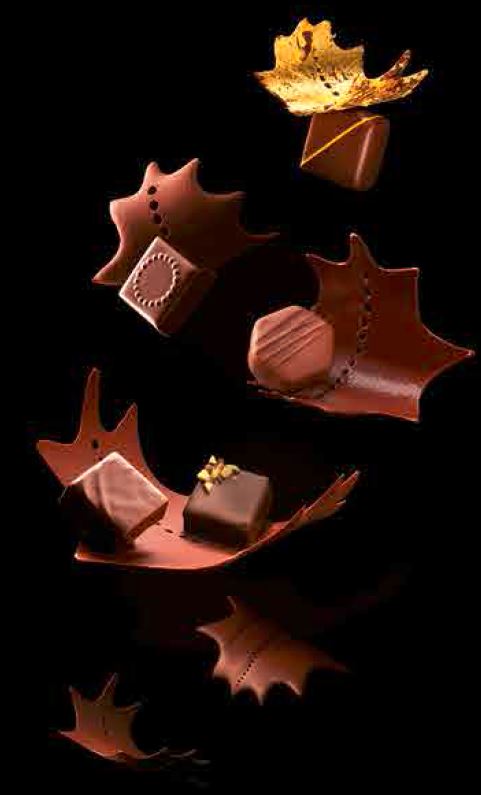 Citrus Cacao – A dark ganache, with crisp citrus notes of orange, beautifully associates the bitterness of the fruit with the intensity of the chocolate. Flaunting its aromatic subtleties, this cacao from Madagascar adds panache with its lovely acidulous notes.
Cinnamon and Fig – An emblematic expression of holiday spices, an infusion of the leaf and bud of the cinnamon tree subtly releases refined cinnamon notes into this dark chocolate ganache with slivers of moist figs.
Exotic Passion – Christmas takes on an exotic air in this dark chocolate ganache with two layers: crisp acidulous notes of a fine passion fruit paste, followed by the sweetness of a half milk/half dark chocolate ganache accented with banana and lime.
Mendiant gourmand – A study in contrasts describes this mendiant featuring a delicate almond praliné with slivers of crunchy and silky nuts. Caramelised almonds and hazelnuts, pistachios and candied orange blended in a robust chocolate yield warm notes of roasted almonds.
A Toast to Nuts – With a nod to the traditional sweets of the holidays, almond paste is emboldened by a melange of almonds, walnuts from the Périgord and pecans, and a touch of acacia honey.