November 29, 2011
Hotel Chocolat Dark Chocolate Advent Calendar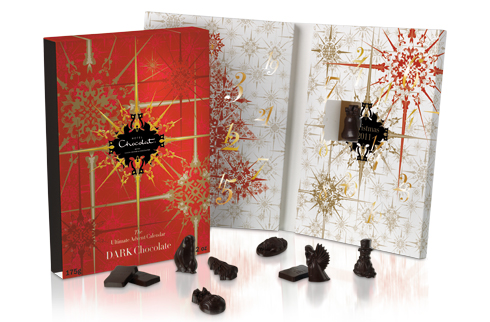 I've finally figured this all out.  I've wondered for awhile at the insanity of the whole 24 thing with these advent things and I've finally sussed it I figure – this is not a one chocolate a day thing – this is an all-in-one-day thing.
Think about it – a month has a variable number of days but generally more than 24 – but a single day – well… a single day has TWENTY FOUR HOURS and if we take a look at all these Hotel Chocolat advent calendars they have… wait for it… TWENTY FOUR CHOCOLATES.  Well, I'm thinking I've been doing it wrong – we've all been doing it wrong. This isn't some chocolate torture device – this is a mechanism to help us measure the passage of time.
Think about your weekends – your Friday nights – think about your days – the time you spend just doing stuff – this is a way to help you get through every day and it marks off the hours for you. You get CHOCOLATE just for making it through the 24 hours in a day.  It's like every hour you make it through rewards you with yet another piece of chocolate – yummy. So I thought I'd run through a typical 24h period.
1am – been drinking so deserve some chocolate would do well – it says "let's begin" so I think more drinking
2am – moar chocolate – this time it's a dark chocolate "I love Christmas" Well, I do more now!
3am – penguin penguin, DRINK penguin…. no way will I be awake for much longer so I eat an angel, tree, and "have you been good" slab
7am – been awake since 6:45 so now achieve Christmas bauble chocolate!
8am – ouch… ouch… pain and the penguin is hiding his face in disgust at my state… uuurrrrggghhh
9am – snowman says need more nurophen
10am – Christmas turkey dinner shaped chocolate and I'm hungry again…
11am – another Christmas bauble – wondering if I should eat ahead and so scoff tree & present
2pm – chocolate saying "10 days to go" but surely means 10 hours to midnight…
3pm – "cool Yule" chocolate but I don't feel so cool
4pm – try to hold mistletoe over husband's head and he eats it so ate bell & "let it snow" in revolt
7pm – "5 days to go" not really… more like 5 chocolates to go!
8pm – "almost there" it's already beer o'clock though!
9pm – another turkey dinner but it's left me *starving* so I eat the bell and snowman and give hubby the "it's Chistmas eve" chocolate even though it isn't…
OK so I didn't make it through a full 24 hours but as you can see, clearly these boxes of chocolate are to help you get through a day but for those poor souls who think this is a one a DAY chocolate treat, you have to grab them fast from your local Hotel Chocolat or buy them online.