November 29, 2011
Hotel Chocolat Mince Pies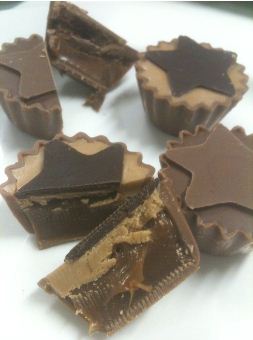 I'm not really the world's biggest mince pie fan. Firstly, only Aldi's mince pies are any good when looking at store bought (and I'm not along in thinking so – check Which's top pics). So store bought are mostly out.  Then there is the whole pastry thing.  Now, I'm happy to be unwell for those Aldi pieces of wonder but on average they aren't worth being ill for.
Imagine my delight and surprise when Hotel Chocolat brought out their version of a mince pie.  A total twist on a holiday favourite.  Gone is the pastry, fruit and filling and in are two signature Hotel Chocolat features – sea salted caramel and praline.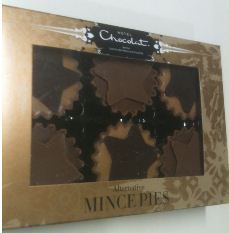 Knowing, dear readers, as you do of my lack of fondness for many pralines, you likely also know that Hotel Chocolat converted me from fruit & nut hatred to love with their holiday wreath.  That was a thing of glory.  So I'm willing to give these little tarts a try and see whether they are worth the calories and expense .
Cutting in to one, you can see that these beauties are around half sea saly caramel with a cap of praline and a cup and star of chocolate.  Each one is quite sweet from both the chocolate and the sea salt caramel but they are sweet and yummy and it is far too easy to eat more than just one.  The milk and dark chocolates are both not really thick enough to add much of a distinctive flavour to the overall creation and the praline in true Hotel Chocolat style is mildly flavoured without too much aggressive nuttiness to overwhelm the sea salt caramel.
At the time of day I tried these (afternoon – post cup of decaf tea with milk), I wasn't really able to get much out of the sea salt caramel but I have to say they were nice as a sweet treat.  They are totally fun as an alternate Christmas dessert and will give those folk who aren't huge mince pie fans something to join in the fun with.  They may be small but they do pack a punch 🙂