November 30, 2011
Just Brownies Original Chocolate Brownies
I was sent one of these individually wrapped brownies by the lovely woman behind the Just Brownies name. Working in batches, she creates some unique and crazy flavours in her brownies, setting her apart from more traditional brownie makers. Using local Sussex laid eggs & self raising flour (among other things) her brownies are then individually wrapped in plastic for onward delivery.
When I was contacted, I was offered any brownies I wanted. Wanting to choose just one and wanting a representative sample, I opted for the original plain chocolate brownie.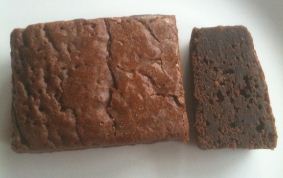 This brownie arrived looking more like a cake bar than a brownie. The long, thick chocolaty brownie almost had a typical crust on top and as you can see there is some aeration in the brownie with some bubbles breaking the surface.
The flavour is very nice but is closer to a dense cake than a brownie which I know is going to be great news to some readers who don't like my preference for fudgy brownies 🙂 The brownie is moist with lots of chocolate flavour and the aeration in the body helps give it a slightly lighter body & less dense makeup.
If you prefer your brownies more cake-like than fudgy then I recommend Just Brownies. This was an edge piece so was likely slightly dryer & more cooked but given the aeration of the brownie I'd gamble that they are mostly lighter & cakier 😉 and that is going to be a winner for a lot of people.