July 3, 2013
Win With Gu and Us Just Make Your Own Flavour!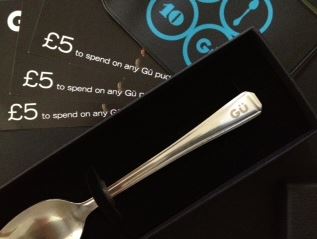 Gu are running a competition right now where you could win a portion of the profits from a new flavour. Yes – that's right – A PORTION OF THE PROFITS! Not just a bunch of Gu – but part of the profits!
My contribution is already on the blog HERE but why don't YOU enter on their FACEBOOK PAGE HERE but HURRY as you only have until midnight July 7th
Not sure about the flavour? Just want to win some Gu? Well, Gu have given us £15 in Gu certificates for Gu Puds, a ticket holder if you're a commuter like me or an Oyster Card holder if you're a Londoner, and a lovely spoon to eat all that Gu with with an engraved handle.
To win, just leave a comment below about what your current favourite Gu is in more than 10 words, I'll randomly pick from valid entries on July 8th. I'm not going to put this on Loquax as it's just for you – my loyal readers and it'll make it easier for you to win 😉
Good luck everyone!
WINNERWINNERWINNER!!!!
Tracey Belcher WON!