July 2, 2013
Marou Ba Ria 76 Chocolate Bar Review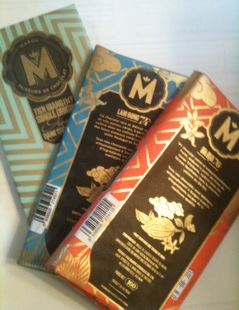 Little was known by me (and a few others) about cocoa from Vietnam before the two intrepid French entrepreneurs decided to set up shop in Vietnam and make chocolate from the beans grown there. What makes this a doubly interesting venture is that chocolate is rarely made at origin. Generally, beans are sent from the country of origin in sacks to somewhere else where it is then made into chocolate. If one source was to be believed, this was historically for tax reasons, with beans taxed much lower than finished product.
Vietnam also was not known as a massive chocolate-producing country before the Marou guys came along yet at around the same time, some chocolate finished by Franck Morin called Viet Cacao popped on the Salon du Chocolat scene. Both brands are doing something very different but both are using these amazing beans.
It's hard to imagine high yield trees producing such varied flavours as these trees do. I doubt they are criollo (a.k.a. the diva of the chocolate world with small yields and it'll get sick if you look at it wrong) but if they are Forrestero (they are getting apparently massive yields from these trees) it'll just go to show that terroir, as much as varietal, makes a great chocolate. The chocolate itself is… dynamic.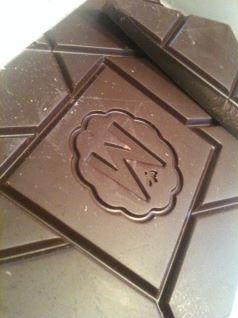 This particular cote starts out with an intense dark flavour with an edge of acidity. Super dark coffee and I think I got a bit of tobacco coming in there (not like the smoker who sits next to me on the train sometimes – real tobacco). There is an edge of almost over-stewed tea in there (which is how I like it sometimes – thick enough to support a spoon it's been brewed so long) and a very quick finish – so fast in fact I felt myself reaching for another piece! I think there was some leather in there but overwhelmingly this is a dark bar that I want to call bitter but it really isn't. It doesn't have that bitter, over-roasted bean burnt notes some chocolate can get and yet that is where those flavour notes are coming in. At 76% this actually seems more like an 80%+ but still full of awesome.
This bar is probably, of the three I tried, the most interesting, balanced and enjoyable. I do like challenging chocolate but even I have my limits but this chocolate gets close without going too far. I enjoyed it!