May 2, 2013
Gu Puds New York Cheesecake Flavoured Reviewed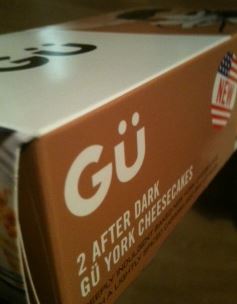 I'll sum my review up in one sentence: Go out and buy this now, get your favourite fruit compote as a stand-by and go crazy! It is, as you'd guess, a deeply indulgent baked New York Cheesecake with a lightly spiced caramelised biscuit base. Mmmmmm… hungry yet? Bought one yet? Come on – get on with it and buy one…
OK… now you've got it, open the foil and inhale. Just smell that gorgeous vanilla with the hint of biscuit from the crumble on top. Now, take a small spoon and penetrate that creamy baked cheesecake top slowly. Savour the first bite by doing everything in slow motion. Break through the biscuit crust and scoop out that precious first bite. Now, slowly take that first bite… slowly savour the flavours in the base and the smooth, gorgeous cheesecake top. Ooooo gorgeous!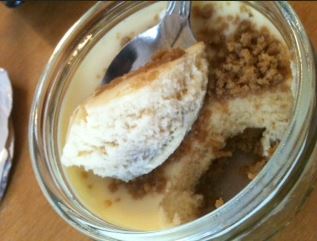 Wasn't that amazing? Aren't you glad you took my advice and popped out to buy yourself a back? Don't you wish you had another? Ya, me too… Those were absolutely awesome and because they are a plain vanilla cheesecake you can add any kind of topping – including salted caramel (I know, I'm drooling too now) or chocolate syrup.
Oh – did we just create a new Gu Pud there? Salted Caramel Cheesecake with a layer of biscuit base, a first layer of cheesecake and a layer of salted caramel with cheesecake on top? Oh goodness! Have you got an idea for a new Gu Pud? Well…
Describe your ultimate Gu Pud and you could win a portion of the profits!  Pop over to their Facebook page and enter their competition and you could win much more than a free pud but you've got to be in it to win it (as they say) so recover from your New York Cheesecake Gu Pud coma and get creative!
Feeling guilty about those glass pots and being wasteful? Not only can you recycle them but you can bake chocolate chip cookies in them!